Interview: Elena Ovchinnikova
Photo: E. Ovchinnikova, Huber's home photo. Yosemite (USA), June 2006.
"The gull see farthest who flies highest."
"Clouds don't worry about falling into the sea
because they can't a) fall or b) drown
But they are free to believe they can. And may fear if they wish"
Richard Bach
I tried not to miss any word from the interview recording. When Elena told that she was under the great impression of her interview I really thought: it was just her stress after a long journey. After Alex's call she rushed in Yosemite to skirt him there as they had not been allowed to stay in the "camp four" more than for two weeks but the brothers have the long-term project. Tell in a few words they took a lodge - the guest house - near to the Valley. If she had arrived some hours later there, the brothers Huber and the all film-making brigade would have been already far away... To be more precise, deep in the mountains :) And Lena's questions were very interesting.  
Having played the tape recording, I understood what she had meant. The idea of charisma comes to the fore. Even several days later after their conversation she still was under impression from the charismatic brothers. If Thomas appears childlike and facile, Alex seems to be a rather rigid and very purposeful person. The characteristic touches in speech can be caught at once. Add here a firm German pronunciation, a categorical - in places - tone, and the picture becomes full before our eyes.
Mountain.Ru and Svetlana Larionova personally - express thanks and huge gratitude to Elena Ovchinnikova for her interview, intriguing questions and charm forcing to answer the questions in detail.  
Svetlana Larionova.
ALEX
Elena Ovchinnikova (E.O). - Well, how did you come to rock climbing, when and who did with you?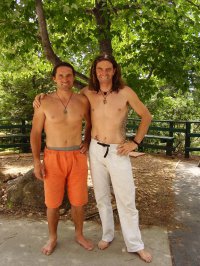 Hubers - Alex (from the left) and Thomas

Alexander Huber (A.H.): Thomas and I descended from an alpinist family. My parents go to mountains I have in a view rather big walls and all that. To tell the truth, our father is more extreme, than our mum. This is a no-brainer that he took us to the mountains when we were children. First we were engaged in ski-touring and skiing. In two years when I was 12, he opened rocks for me... Since then rock-climbing became my passion. But nevertheless I became to be afire with enthusiasm for the mountains earlier, not because of rock-climbing. All began from my skis.

E.О. - You have told that your mother was engaged in mountaineering too.

A.H. - Yes, she is keen on it and now. Five years ago my parents and a sister summited Mount McKinley...

E.О. - Cool! Tell us about your sister. How old is she?

A.H. - She is 5 years younger me, that means, she is 32. Yes, she is engaged in rock-climbing too, her level is up to 7с + ... Earlier she spent a lot of time on rocks, but now her work cramps her progress...

E.О. - What do you do for a crust? And what about your education level?

A.H. - I am a physicist according my professional education. When I was 29 I defended and got Master's degree. I started to earn money even during my study, as I had to pay upon my education. Once I showed some slides of views of the Salathe Wall, and understood that the spectators literally were happy. It appears that it is possible to earn money treading the path of mountaineering. I tried to work in the specialty one or two years and it was no-go. And it is just impossible to turn an honest quid only by climbing.

The question is not about money but about my survival, gaining bread. The big walls climbing is not my work, it's my passion. My work is making slide - shows, writing books, shooting films. I draw the line between actually mountaineering and business. Let us say, someone has a usual work, but nevertheless one - two times a year he gets out to the Himalayas. I have my business as well as those one. But it is delivered in another way: if he sits at an office, I climb. That is the whole difference.

E.О. - You do not take part in competitions, I would like to ask: why?

A.H. - I have not participated in any competitions, except for the national. My debut was very poor, I got the last place. Later I acted better, tied for first place... If I had continued to compete, I would have run rings round many top-climbers, but! - if I had specialized in that. I would not have accepted participation only in German competitions, would have left to the international level and reached finals. It is the only possible variant for me. I would persistently have trained for that.

I have taken part in six competitions, and was really satisfied with the last one. I won them and said to myself: Aga! At least, you are not such asshole in comparison with the guy started to compete four years ago! But also I understood that I would never want to be afire and to direct my energies and passion to competitions. Because you succeed a lot but lose a lot too. As for me it is always more interesting to climb real rocks instead of artificial walls.

E.О. - Does your brother help you from the viewpoint of motivation? What part does he play for you?

A.H. - Well, both of us like climbing, you understand - we are just two brothers living together, sharing one passion, and climbing together too. But, certainly, if to suppose I don't have a brother then I will climb any way.

E.О. - Why do you deal this project together with your brother? Because you understand each other, feel each other intuitively?

A.H. - Basically because that is convenient: we are doing one work, mastering of our time on the same wavelength. Besides I like the idea to climb with my brother. You are not wrong, we feel one another and there are no reasons to search another partner. But, certainly, this is not always the case. Thomas takes part in other expeditions with other people, and I do too.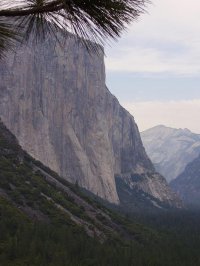 El Capitan as tourists see it
Altitude (above sea level) - 2330m.
Difference - 950m.

E.О. - There are so many big walls in the world. Why is Yosemite?

A.H. - You should understand: I am the man of necessity to be at needed time in needed place. When there was only the one free climb route on El Capitan everybody around spoke about it. So I should investigate the wall for free climbing. To tell the truth, El Capitan is really the most outstanding wall in the world.

Now the question is already in high-speed climbing the Nose, but now this project as a whole is completed both for Thomas and for me. We have never been fixed only on Yosemite. Yes, they make much of Yosemite and draw attention to it. And we would really like to climb there. But I have been in Patagonia, Himalayas, Karakoram, Dolomite, in Chamonix - in the last year... We climb all over the world, instead of sitting in Yosemite. But because of media it seems the matter looks like we sit there all the time.

E.О. - You achieved a record of Zodiac speed ascent used a "short fixed" technique. And did you understand that it was risky...

A.H. - Oh, quite!! And understood, and even felt this! * (smile). Risk is always present, and if you set off to climb El Capitan - you risk. On the other hand, El Capitan is nothing in comparison with any other hard wall in the Himalayas where ascents are much more risky and serious. Well, all in the day's work.

E.О. - What did you feel after solo climb Diretissima, Cima Grande in Dolomite?

A.H. - First of all, you should understand that you will climb «without anything». You are along and have nothing except for your rocky skill and mental approach. In our industrial world everybody around think about life insurance and speak: "you should be insured!" But what will happen if something comes up? Yes, the life is risky, and if you were born, you will die exactly. But the things between my life and my death are my own business. It is my task to create something worth in this interval. Certainly, I do not woo death and I do not speed up its coming.

I defend my life in every way. But also I do not dread the grave. I don't think: "No! If I decide to do this I can be lost!" Certainly, there are certain things that you shouldn't do. Ant you must not risk your life in a silly way and should "measure" the portion of risk. And if something is above my strength, I will just avoid to do that. But climbing Diretissima, Cima Grande I felt great security. Having climbed it I also understood that I was able to repeat it free solo. I risked, but it was the justified risk. Certainly, it demands very much of you and your very serious psychological efforts, mind trick, reasons.

E.О. - What does your mother think about this?

A.H. - Of course she was upset very much. And our trip to the Himalayas did not make her happy too: she understood all the danger of the mountains. But at the first sight an ascent in the Himalayas is not potentially much more dangerous as free solo on a hanging route. The fact that her son is hanging on a wall the tips of the fingers in 200 meters above the ground made her nervous, of course. I would not tell that she has got used to that... No, but she had to deal with that. To understand more or less... as a climber. She is a climber indeed.

E.О. - But that is dissociated from a motherlike position. I do not believe.

A.H. - Really?.. You are right, probably... You are right, of course not.

E.О. - You are well-known. How do you bear the burden of glory?

A.H. - Well-known?! I was in the dark about that before you have told that (smile). Yes, rock-climbers in my city recognize me here. But I do not feel popularity when I leave my house or a lodge in Yosemite. I am recognized but they do not rush to me with silly questions or requests... No such things. My life has not changed in any way. I tried to explain that to you earlier, speaking about my work, that I live in primitive fashion: work, earn, and have spare time and money to take up for climbing. Winter season I devote to creation of my slide - show.

E.О. - Do you install your slide - show in the rest of the time?

A.H. - Yes. I travel over Europe: Spain, Italy, Sweden, Norway...

E.О. - Have you ever been in Russia?

A.H. - No, I have not. I would like to visit Russia, if I get the formal issued invitation. But, of course, that takes some doing: I live on this money, so I am necessitated to ask the host country to pay all charges plus I have to make some money on this. It is a business trip limited in time. I have about 60 shows a year. It is a hard work, by the way. Like the other people do at their offices. It takes me one or two months for preparation of every two-hour - show.

E.О. - Do you provide slides - shows in America?

A.H. - No, they are not paid for that. There is another matter here instead of in Europe. Usually I find sponsors like North Face, and they pay for my show, for spectators - admission free. Well, when you are engaged in such business, all depends on sponsors. In Italy, Norway, Spain they just pay my slide - show, and it's quite natural.

E.О. - What is about your other talents? What would you like doing or what do you do when you are not climbing?

A.H. - I go skiing - if you remember, I used to ski when I was a child and before I opened rocks. It seems my second favorite kind of sports after rock-climbing. Also I bicycle, not only for training but also because it's a great treat to me. Unless I made my living with slides, I would be a researcher of an institute. Actually I am a physicist, do you remember?

E.О. - I've got some more questions but if you do not want you can not answer.

A.H. - It's a deal.

E.О. - Do you trust in God? Are you Christian?

A.H. - Yes, I am Catholic, but actually I do not abide the ideas and ceremonies of Catholic Church. I think that it is difficult to follow the ideas of church. For me everything around is alive and the wonderful creation and as I have not still had an opportunity to understand the fundamental principle of creation of the nature, I speak: all that is the result of any magic, miracle. I believe so and I conceive this entire world quite so. Perhaps, there exists another world where I would have been born not as Alexander Huber, but as someone else.

E.О. - Of course, but do you believe in God's power? In the Holy Spirit?

A.H. - I call all of this as miracle. However that may be named: the God, the Holy Spirit, God's power and so on. Catholic Church, for example, tries to personify the God, to add him human features: you know, the God - father has a gray-haired beard, the Holy Spirit looks like a bird... There are not these pictures in my head. As I have already said: it is a miracle for me. I cannot explain that and there is nothing to explain here.

E.О. - Do you practice meditation, yoga?

A.H. - Mmm... No, I wouldn't say I do.

E.О. - Do you believe in love at first sight? Or you need to go around with somebody for a long time and then to fall in love.

A.H. - Now we speak about two different hypostasis of love. Love at first sight differs from "long-term" love. It is possible, that love at first sight will escalate in deep feelings. But it is a very shaky bridge, and you can never tell whether you get any emotions to this girl after two years. And sometimes you understand with a great surprise that you are fascinated with this girl much more strongly than at the moment of your first meeting. Acquaintance is like the summary of a book, but its understanding and the depth come in course of time.

E.О. – Do you have a girl-friend?

A.H. - Actually I am single and I have never been close to marrying... You know, as is typically the case: children, family, routine… Though my children could be born when I lived really long time with one girl. But I can not tell that children were according our plans, and… That just did not happen. Now I have a girlfriend, and maybe, we will get married, but if no... Well, I do not see a problem in that.

E.О. - And the last question: what was the happiest event in your life?

A.H. - The happiest event... The prehistory is: a building business of my parents faltered and then failed. It turned out, that one of the business customers refused to pay and after a long hearing of the case in result they lost everything. Everything! Full bankrupts. Plus they had to pay debts all the remainder of their life. Their bank account was under the control. They could afford some food to keep alive. If they spent hardly more that was regarded as swindle.

We lived very poor, and I decided to take up my own business and became to be engaged in slide - show. I bought my parents a house. They live in 40 minutes from Munich, in the same place, where Thomas lives. Purchase of a house is a very important event in Germany. People go to this all their life. My parents live there free-of-charge, the house is registered on me, and I pay for it. So, I regard that as the Happiest Event in my life. I've had luck: I understood how to earn money at an early age, and could provide my parents with worthy habitation. Not because I thought: I should thank them for their giving my start in life. Their distress was pressed me very much but now I am happy.

To be continued (Thomas Huber's comment)

* During the "Nose" speed ascent Thomas fell from the last pitch and plunged 10 meters via the mirror up to a ledge and 4 meters more down. In result - he has got an ugly hematoma of his back and is unable to sit now.

They are confident: if it had not been for this fall, they would have set the record and the project would have been closed.

They are going to arrive to Yosemite again in October 2006.