Ïèøèòå â ÔÎÐÓÌ íà Mountain.RU
Author:Y.Glazirin
Photo:V.Arhipov, E.Dmitrienko, A.Kuharev
Kodar range, Czarsky Tron (Czar's Throne, 2500) New Route, 6B, 1000 meters SW wall
On February, 2003 the team from Siberian city Krasnoyarsk made a new route on SW Face of Czarsky Tron (Czar's Throne), main summit (approx. 2500m). The mountain is located in Kodar range, Siberia (Russia). Kodar range could be reached approx. 1 day by train from Baikal Lake towards North-East.
The temperature on the day of arrival to location of the Base Camp was -20° C.
The extreme cold of last year (up to -50° C) again came into mind. The team was familiar with Kodar climbing but how quickly the memories become devoid of it!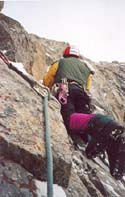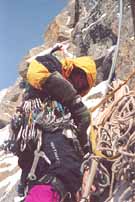 Helicopter allowed them to save energy for making the approach. They settled in an abandoned hut - "izba" in russian. Also they dug snow cave for spending nights near the basement of the wall.
It took 10 days to install both Camp I (after fixing 6 pitches) and Camp II (after fixing 11 pitches), where the working pair spent nights in portaledge.
What's the climbing like? - Mostly hard aid. They could proceed up the 75 wall placing fifis, anchors, friends, and bolts. Free climbing seemed hardly possible because of poor rock.
After establishing Camp II the team gathered in portaledge for the summit push. It was getting warmer; the temperature rose from -40° C up to -20° C. But on Kodar the "warm" cyclone brings strong winds.
They could barely reach the summit ridge with their frozen fingers, the storm didn't calm down. Just a bit more effort and it would all be over. After advancing 20 meters, they finally reached the summit.
The descent took them a whole day, in the darkness they returned to Base Camp.
Possibly it - s the hardest route on Czarsky Tron, 6B (Russian grade, i.e. the most difficult).
The team members were Vladimir Arhipov, Egeny Dmitrienko, Anton Pugovkin, Sergey Cherezov, Uriy Glazyrin, Dmitry Tsyganov.
Thanks to Valery Balezin (the team leader), Alexander Kuharev (doctor) and Alexey Sikilinda (volonteer).