Photo: Alexander Ruchkin, Saint Petersburg
Kyzyl -Asker Southeast face
Object: Kyzyl -Asker (5842m) Southeast face
Area: Tien Shan, Kokshaal-Too range, a part of the ridge to the west of Sary-Jazz the summit is located in the main ridge on Kirghiz-China border, the face - sidewise at China .
Terms: September, 5-13, 2007
Grade: 6B (Russian grade)
Route extent: 1500m (30 pitches)
Running days: 8,5 days (one of them was a forced rest due to bad weather)
Team members: Alexander Ruchkin, Mikhail Mikhailov, Alexander Odintsov
| | |
| --- | --- |
| Kyzyl -Asker Southeast face | The entire Kyzyl-Asker Southeast face |
| | |
| --- | --- |
| Mikhail Mikhailov's climbing the 8-th pitch | Mikhail Mikhailov on the 10th pitch |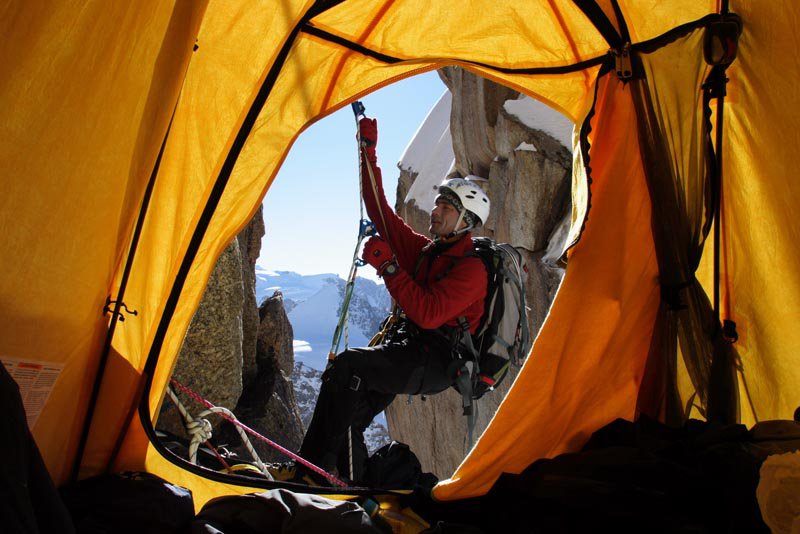 Mikhail after the first spending the night
M.Ru comment: The name "Kyzyl-Asker" means "A Red Army man" in translation from Kirghiz (literally &quotA Red rider&quot. The Kirghiz is nomadic population and the concepts &quotarmy" and &quothorse" have no appreciable difference).
This name was given to the summit in 1930th years during an expedition led by Letavet that for the first time approached to the area from internal Tien Shan . That time they refused the idea of ascents and limited only making deion of the area. The mountain was called in tribute of the Red Army men escorted the expedition in case of clashes with counterproductive locals.
Mt. Kyzyl-Asker (5842m) is the second highest summit after Dankova peak ( 5982 m ) in the western part of Kokshaal-Too range, that is to the west of the inrush of the Sary-Jazz through the range.
The areas of Kyzyl -Asker and Dankova peak, spaced some tens kilometers apart, are the main centers of glaciation of Western Kokshaal-Too.
East Kokshaal-Too is frequently visited (the areas of Inylchek glacier and Pobeda peak), however a part of the ridge from Sary-Jazz up to the Western Pobeda is rather seldom attended, especially the area with approaches via the gorge of Koi-Kap - only superb high-altitude tourists can get there occasionally.
Western Kokshaal-Too (to the west of Sary-Jazz) is extremely seldom visited. There were several climbing expeditions to the area during Soviet period (the corner is very distant, approaches are extremely long and difficult - in those days such questions were centrally planned, solved and sponsored more often by the State).
During post-soviet period it seems there were no expeditions to the area except of climbing trainings of a team from Moscow region (a significant part of the participants were from Chernogolovka - a city of physicists situated near Moscow) in 1996, 1998 and 2000: they explored the area of Dankova peak and made some interesting ascents.
Dankova Peak first ascent.
We do not know any other expeditions of climbers from the former Soviet Union to the area of Western Kokshaal-Too, though there were at least some visits of teams from Britain and Switzerland there.