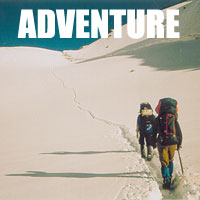 (6.06.2021)
Baruntse West Face Heavenly trap
The weather is devilish and even ordinary basic tasks, such as boiling water or going to urinate, are on the limits of survival
Author: Marek Holecek, Czech Republic
(31.05.2021)
The West Face of Baruntse
Climbing the almost 1500m route up the face took seven days - seven days of constant physical and psychological tension. Snow pitches alternated with sections of rock, often plastered with ice. Placing protection on such mixed routes is more complicated than on a purely rock or ice route
Author: Sergei Efimov, Yekaterinburg, Russia
Translated from the Russian by Richard Sills
(6.11.2020)
Sani Pakkush 6953m (Virgin South face) Revers gagnant
After two weeks we were ready to give a try in this big piece of alpinism. Poor weather conditions made us wait fax days more but the sun was expected to shine for almost one week which made us allow to give a proper try in the face
(19.11.2019)
About real winter again
What does mean for you "Mezzogiorno" (Midday)? Is the moment when the sun is in the hiest position onto the sky. What does mean "Mezzonotte" (Midnight)? Exactly controversial - sun locate in the lowest position, other side of the Earth
Author: Denis Urubko
Source: montagna.tv
(1.08.2019)
Piolets d'Or 2019
In 2019 the International Jury of the Piolets d'Or has chosen to honour three innovative ascents: a famous face on an iconic mountain of the central Karakoram
(12.05.2019)
Baintha Brakk WII 6540m, NE Buttress, attempt
On the long west-northwest ridge of Baintha Brakk (a.k.a. Ogre, 7,265m) lie several impressive summits, including Baintha Brakk West (6,660m) and Baintha Brakk West II (6,540m). Max Ten and I had the latter as our goal for the summer of 2018
Àâòîð: Kirill Belotserkovskiy, Alma-Ata
(15.04.2019)
Spirit of mounteering et Nanga Parbat
The two men team was climbing the infamous 13km long Mazeno Ridge, the lengthiest arete on any 8000 meters peak
Author: Major General Khalil Dar, Pakistan
(27.03.2019)
Latok I Saving Chief Mate Gukov Part IV
How many days can rescue operations last? How adequate are decisions made by the relatives who frequently know nothing or precious little about mountains?
Author Anna Piunova, Mountain.RU
Translation Maria Samsonova, Ekaterinburg
(28.01.2019)
Two new routes on the north face of Ordzhonikidze, 4410 m
There are no walk-downs from the summit of Ordzhonikidze. The easiest route is Russian 2B or French PD. On the icy north face were three existing routes, the first by Alexander Kolegov's team in 1956. Much later, Vassily Pivtsov and various friends added two more, in 2000 and 2004. All these were 4A or 4B
Author: Kirill Belotserkovskiy, Almaty
(9.01.2019)
Latok I Saving Chief Mate Gukov Part III
Gukov, what about Gukov? My lively imagination was presenting a picture of him dying there on his ledge.
Little by little.
Life is going to seep out of him over a long, long time because he is healthy, not injured, and the weather is relatively warm
Author Anna Piunova, Mountain.RU
Translation Maria Samsonova, Ekaterinburg
(14.11.2016)
Grandes Jorasses
"Nothing happens by chance, everything happens for a reason", that's what was on my mind as Roma and I got on the Freboudze glacier in the early summer 2016. We were looking at the east face of the Grandes Jorasses and we already imagined ourselves climbing there
Text by Maxim Foygel, Krasnodar
Photos Maxim Foygel and Roman Gorodischenskiy
(26.10.2016)
Moveable Feast. Thalay Sagar 2016
As far as I know, nobody has ever climbed North face of Thalay Sagar without using portaledge. We, on the contrary, ceased using portaledge after "No Fear" on Trango Nameless. It was a sort of extra challenge for us this time – try to make it with a tent for 2 personsjazz-music.net
Author Dmitry Golovchenko, Moscow
(25.10.2016)
Tibet – West Nyenchen Tanglha expedition report
Recently Domen Kastelic, Olov Isaksson and Marcus Palm came back from a successful exploratory expedition in Tibet, where they made a first ascent of Jang Tsang Go (6300 m) in West Nyenchen Tanglha mountain range that is mainly unvisited area
Àâòîð: Domen Kastelic, Slovenia
(16.12.2015)
Cerro San Lorenzo: three new routes by Slovenian alpinists in Patagonia
In November 2015 a team of five Slovenian alpinists Dejan Koren, Bostjan Mikuz, Rok Kurincic, Domen Petrovcic and Domen Kastelic spent a month in the area of Cerro San Lorenzo, the second highest peak in Patagonia. They established three new routes: Direct Route in Cerro Hermoso's southwest face (TD-, 1100 m Petrovcic, Kastelic), No fiesta in Cerro San Lorenzo's East Face
Author: Manca Cujez, Slovenia
(18.11.2015)
Talung 7349m, first ascent via NNW spur
At the beginning of acclimatization phase we came up to our spur to look at it and to see the quality of the ice and rock. Even after looking at the first pitches we realized that it would be something like Chamonix mixed climbing but with heavy packs higher than 6000 m and during a week!
Autor: Mikhail Fomin, Nikita Balabanov, Ukraine
(17.11.2015)
Kok-Shaal Too 2015 Short history
Idea was that all 3 teams could work independently. For that purpose Grigoriev joined second team for acclimatization period, 3rd team were climbing easiest lines while me and Nilov were doing reconnaissance of major goal. One of unpleasant surprises: we found garbage with dates of 2010 and 2011 on glacier under South East face of the mountain
Author Dmitry Golovchenko, Moscow