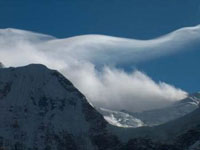 (11.01.2005)
Simone Moro. Shisha Pangma
10.01
First day of the week and, as the weather forecast said, will be the same all the rest of the week: windy!!. The wind continue to be strong and for the next weekend Karl Gabl from Innsbruck said that the speed could arrive also to 180 km/h!!!! "be patient" said Karl, but for us is difficult to be...
We are in a good physical condition and motivation is high... In any case we will follow his advise and Piotr and I will go tomorrow "only" to try to finish to fix all the route till the ridge at 7300 and fix C2. Than we will be back in base camp waiting for good news from Karl and his perfect forecast.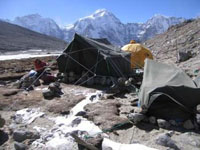 09.01
Wind, wind, strong wind. Today the force of the wind is extremely high. We decided to reinforce with ropes and big stones the kitchen tend and dining tend. The store tend brake this morning for the strong wind. The birds already brake many tends (also in C1) looking for food so we don't want to have other damages to our equipment. At 10 am we get contact with Darek and Jacek that still were in C1.
Yesterday they get a really hard job and difficult conditions and this morning was difficult to take decision to left the sleeping bags and start for the descent to ABC and BC. Jan also started to come down from ABC to BC and this evening we will be all together here at 5200 meter of Base Camp. Tomorrow we will take decision and strategies for the next important week....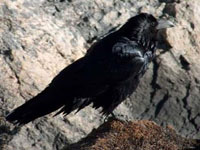 08.01
Another day of extreme cold and strong wind, but Darek and Jacek did a great job. They carried 400 meters of rope till 7200 and fix 100 of those. It had been not enough to reach the ridge but it is closer and closer.... Now Darek and Jacek "sleep" in C1 and tomorrow they probably came down to ABC or BC to take a good rest. I and Piotr continue to eat and get rest to be ready after a few days to set C2 and maybe make already a first summit attempt....
Yesterday we finished to repair one of the 3 tends we get in ABC that had been seriously broken from the big hungry birds. The birds were looking for food and brake all the tends, without find any food (we left especially in a plastic drum). Maybe the damage is a revenge....?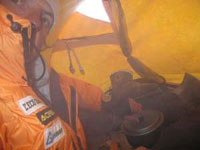 07.01
Yesterday we get a terrible cold and difficult day but at the end we reached 7200 m. Piotr and I dreamed to stand up of the ridge but we finished the fix rope at 50/100 m of altitude to the ridge. We have to set 200/300 m rope still. We would like to observe the last 700 meters of difference between the col and the summit. In our plan after rest, we want to fix a tend on the col at 7350 meter and spend night to acclimatise well and also using that point as the starting point for the summit. Today Piotr and I came back to Base camp and we will remain 3 days to get a full rest. Yesterday we get -40° degree and strong wind and we need time to find again the energies to work. Darek and Jacek today carried up 400 meters rope till C1.
Tomorrow they will try to carry higher.... Cross the finger for us.... The next 1/2 weeks will be extremely important for the climb.
FOTO: Cold in the tend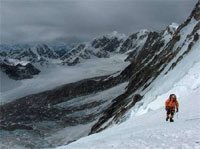 05.01
The winter now is here completely...
Wind was attacking us all the day. On the morning temperature was about -30 degree Celsius in the ABC at 5600 m.
Darek and Jacek were working all the day above the C1 (6550 m). They probably reached 6800 m, foot of the last few hundreds meters of couloir.
Today Simone and Piotr carried equipment to C1, also the tent for Camp 2, which should stand on the col.
Our route occured longer than we expected and with ropes we already have up, it will be difficult to reach the col. But we will do our best.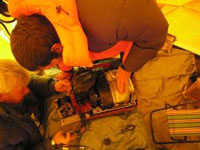 04.01
The good weather returned. After 4 days of storm and cold, today we saw again the sun. It had been a cold night but the morning sun get us the possibility to continue to work on the mountain. Unfortunately with the sun is arrived also the strong wind in high altitude and in the next weekend the speed will be over 40 m/sec (160 km/h). Today Darek and Jacek went to ABC and tomorrow they will reach the tend we set at 6600 m. They will spend night and the day after will try to climb higher. Piotr and I will follow them tomorrow and for the week end we dream to reach the end of the face ad set the tend on the ridge at 7200 m. The problem will be the wind... but we will try to do our best to resist. Yesterday we get the first technical problem.
Our generator stopped to work and "get frostbite". Piotr and Jan today made a surgery operation and they obtain to get 12 volt power from it. Together my solar pannel we should continue to give enough energy to our camp...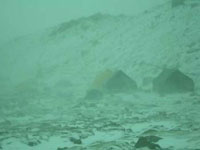 01.01.2005
Is arrived also here at base camp the midnight but nobody was in the dining tend waiting for it. We was too tired and was to cold and we decided to go in our warm sleeping bags and sleep deeply. Also today the weather is bad with wind and snow and it should be the same also for the next 2 days.
Karl Gabl (our Austrian Guru for the weahter forecast) said to be patient and to call him Monday in Innsbruck. We will have our next weather forecast and we hope to have good news...
We wish again a nice 2005 full of smiling moments...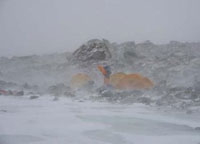 31.12
After 4 days climbing along the Jugoslavian route on Shisha Pangma, we came back to Base Camp. Storm and bad weather obliged us to turn back. I and Piotr spent nigh at 6550 and today we planned to go near 7000 meters but this was impossible. So from 6550 we came directly back to 5200 meters of base camp (log way....)
Last night the wind and the cold had been a good test for our capacities. The bad weather should persist for the next 3/4 days and we will take a good rest and "charge our motivations and determination". Tonight we will celebrate the new year and we wish to all of you a 2005 in health and without any polemic...
Have a nice 2005!! and I hope you will continue to follow the adventures from me and my friends also in 2005.