Author: Valery Shamalo, S.Petersburg
Translated by Anna Samodelko, Anna Piunova, www.Mountain.RU

Kongur-2003
We returned home from China 08.09.03.
You can find the brief comment of our journey beneath.
01.08.03 We climbed Peak Lenin (7134m). for acclimatization. It was like taking candy from a baby. But there was a serious problem then. The Chinese attendants refused to visa in Kirgiziya. Our teamís member Alex Gorbatenkov was turned down there and should go to Kazakhstan where he successful got the visa.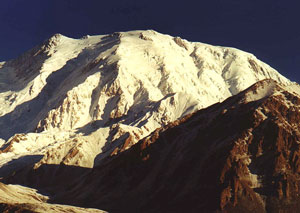 Kongur
But as a result of that we lost about a week and it was found we didnít have enough time to make a successful expedition. In spite of everything we started the expedition to Kongur.
There were six members of the expedition. The climbers: Shamalo Valery, Kofanov Sergey, Kirill Korabelnikov, Alex Gorbatenkov and a Frenchman Mark. Lida stayed in the Base Camp.
The luggage was placed on four donkeys and in a little rucksack we carried by turns. We got 4 tents, 3 ropes (+ a ragged one), ice and rock equipment and tools. It took us 6 hours to get the Base Camp from the last bus station.
Further we made two climbing: up to 6000m and 7000m. It seemed there wasnít any problem from the North Face. And we really didnít have 7-8 days more to make third successful climbing.
Moreover Mark felt sick at first climbing and the weather was disgusting at 7000m.
But as a whole you can really mount Kongur from the North Face for 20-25 days. Therefore we suggest all interested persons to join us in July, 2004.
The route and Chinese specific character are well known by us. And if to get the visas beforehand the probability of the successful expedition is the highest.
Contact person: Shamalo Valery, valera-sh@mail.ru