(5.03.2005)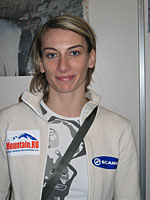 Rock Climbing Russian Cup Event to Anatoly Bychkov memory
Qualification. Olga Bibik, Krasnoyarsk
O.B.: There was a little of spectators. The last year when exhibition stands and rock-climbing "mushrooms" were at one level, the much more amount of interested in the competition people got together.
MR: It was the first start in this year. Was it difficult for you to send the problems?
O.B.: I was surprised that all the sportswomen were ready for this start :) 8 or 9 person sent all the problems first go. And it's not clear, whether we were underestimated or the skill level of bouldering climbers in Russia increased noteworthily. Probably, we have it both ways. In my, certainly, subjective opinion only the last two lines were really for bouldering, the others were similar to elements of complex rock-climbing.
MR: How significant is the result on this event for you personally?
O.B.: It is very important now to understand my readiness for the beginning of the season. Though, as practice shows, it is difficult to make some far-reaching forecasts after Russian Rock-climbing Cup. Last year I became the third in Russia but finally, in final offset of Climbing World Cup I became the second.
The basic struggle will begin close to the summer, by this time I am going to be up to the mark.
MR: Would you say some words about the women - your competitors?
O.B.: The make-up of the entry list seems to me rather strong: Julia Abramchuk (the third place in the Big Cup - 2004), Tatiana Tarasova stably successfully entering the competitions of Russian Cups in bouldering. And I would point out Yana Chereshneva, a young perspective sportswoman from Krasnoyarsk