The author: Vladimir Kopylov, Moscow
Ski and snowboard descent via a well-known ice falls "7",
Mt. Donguzorun (4468m) Caucasus, Russia
From the contents of the Multimedia disk " Find your own Top "

The massif of Mt. Donguzorun is settled right opposite of Elbrus and widely known both in our country, and in the West. It takes only one and a half-hour of walking to reach the foot of the massif from the Cheget hotel. The North Face of Donguzorun is the most difficult and magical slope especially when the sunset paints it in purple-red colors. It both attracts and repels the best climbers. A huge ice-fall over all the face in the shape of an upside-down figure "7", hangs with two its seracs over Baksanskoe gorge, giving to the all massif especial outlines. For the first time the northern face of Mt. Donguzorun was climbed by a two-men team from Svanetiya M.Hergiani - I.Kahiani in 1957.
The legend says (it is not those silly fairy tales about the black climber, Elbrus maiden are spread by beginner-climbers who have already been through fire and water and hell and tell them trustful girls to attract their attention. And it is not those tales which thirsting blood and greedy up to cheap sensations silly people want to hear). This is a legend transferred by word of mouth by those chosen ones for whom there is no life on a plain... Who cannot (or cannot yet) go every day for boring work and "to sell flowers for thaler for a piece" (Baron Munhgauzen), who falling asleep every night in mountains in their dreams see the same mountains, silent, white!
Well, the legend says: once upon a time a man descended on skis down the ice-fall "7" via the huge northern face of Donguzorun 1,5 km long. Someone speaks that it was a Japanese, someone speaks - a Pole or an Italian.... One instructor in hotel Terskol (Prielbrusye) surrounded by young women-alpine skiers told how he could do that many times almost already in darkness. " I am skiing, it is visible nothing", - he speaks - " Suddenly I fly! I fly! Has jumped off, and again I am skiing " "Ah!"- the girls say. Now I can precisely tell him in his eyes one a simple well-known Russian dialect " Ï....!" meaning "Do not talk nonsense!" The Frenchmen - fans of snowboarding for two years running came to helysky in our mountains in Prielbrusye and dreamed about risky skiing, being carried away by the sight of Donguzorun. But we told the Russian spell: " A fig to you! It would be the Russian to do that first." And some people gathered around this idea "to do the true story from the fairy tale! " We considered that the ideal matter was to get the guys to the top of Donguzorun and to get a video- and photo-operator to the top of the next mountain Nakra using a helicopter and to begin skiing down from the top via a snow-ice wall-site up to ice-fall "7" and farther via the "7" up to the foot of the mountain. It is the program-maximum. The helicopter is simply necessary. If we need to do many hours gangway and climb the wall our legs will become tired; it is clearly to any skier. All the complexity of this descent consists in the fact that you have no right to any mistake - there is only a abrupt rocky site and ice-falls below and there is not a convenient smooth site to brake. And if you fall, you will hardly manage to hold on the wall.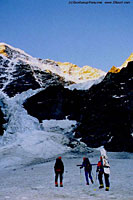 As it was to be expected we were short of money to hire a helicopter. But it was not too easy to refuse a dream! Therefore we made a decision - "The program-minimum is an reconnaissance". Our aim was to ascend the ice-fall "7", to estimate a condition of its relief, an opportunity of ski descent, objectively dangerous places, to make a photo and video shooting. And the main thing was to loose nobody during this excursion. So, all our adventurous company consisted of two operators of photo-video and two "actors" - my brother Alexander Kopylov in the role of skier, and Mihaylov Vitalik in the role of snowboarder. He had appeared with us absolutely casually. Literally, having jumped on a footstep of a "train" leaving in our adventure, he asked us: " Take me with yourselves". That time he did not understand what he was running into and later climbing the wall he might have regretted about that not one ten times and has given to himself one hundred pledges, that if he descend safe and sound he will never - never take part in such adventures any more. But actually this guy appeared a real hard-hearted person !!! His training occurred already on the wall while we were climbing in real "fighting" conditions and was laconic and simple. " Here is crampons to climb on ice" - my brother explained quietly. " You put them on your boots and if they come off the man can fall down and depart to nonexistence... (And believe me, there are a lot of space to fly to). This is a jumar needed to use for ascending on the fixed rope," - the training was continued - " if it will jump out, the man fall down. It is a helmet - if you hear a scream "stone" you will have to manage to evade from it even it will be necessary to jump in a crack for this purpose - if you are roped you will not fall down far - no more than meters 5-10 ... I don't recommend to look downwards - the height and the depth under your foots reaches one kilometer and it badly influences mentality. At avalanche collapses from the wall you will have about ten - twenty seconds for making a decision... Do you understand it clear? Then let's go."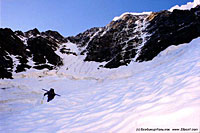 And there was only silence around. There was not any guarding sound. There were only rhythmical strokes on ice of the leader, heavy breath and rare shouts - commands: "Ready! Understand! Go!"
The top of the Wall was apparently painted by gold - the sun had already illuminated the tops of the ice cover overhanging above us and crowning this entire huge Wall, and we were still long staying in a shadow. All the night long ice collapsed down the Wall with a roar, being reflected in our mind a unique question: "Where?" The glacier forming at a great distance the well-known figure " 7 ", on closer examination appeared abrupt and torn off so very much frequently that we had to climb seriously on the front points of our crampons.
On a background Elbrus literally soars in space, green meadows of his foot remind of a summer, there is an empire of a snow and ice around us, and above us - there is still infinite 1,5 km long Wall and we have to climb it and descend safe and sound.
There is only ice around - it is not enough snow. The crevasses are too deep. This year on Caucasus appeared out snowless - as the result of that: in June the Wall is in the same condition as in late August. Snow bridges above the crevasses are weak or are not present at all. As I hate these bridges. So much friends were lost on them.
We climb roped, moving simultaneously for speed, and I still try to run forward or to be left behind in order to have some time to make a pair of photos. The best my photo of the Wall of Mt. Donguzorun I in general made blindly literally "to the touch" against the sun, screwing up with all forces my eyes and already burnt by the sun without that. If to spend half an hour on such snow in the dazzling sun's rays without sunglasses - and the time blindness is provided to you.
Here on the Wall everything seems in another way. Ice-falls hang, shaping simply frightening sizes. They seem have stood still for a while behind our back, allowing us the last chance to clear off from here as soon as possible.
Though the slope of "7" at the top cross is equal, but it is obvious avalanche dangerous. In the corner of the top break of "7" the glacier appeared in general is torn off awfully, forming a crevasse in which my inflamed imagination easily could hide a whole high-altitude building of the Moscow State University.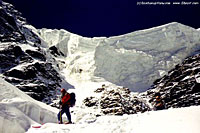 Melted a little deep soggy snow sticks to the crampons and, complicating movement upward it seems to speak, warning: " do not go further- it is dangerous". You should not play with avalanches. I know it not by hearsay. I mentally reckon variants where we will have to run if all this slope under us suddenly become alive and goes on the wall of one kilometer down. And a huge serac is overhanging above us and the ice top "cap" is near to us. Yesterday avalanche collapsed just here on the center of the Wall from above roaring, that each of us likely thought: "It is good, that we there are not there". All this snow ice chaos took about ten - fifteen seconds to reach from above up to the "7" glacier's basin. Thus it is that time which each of us will have in a reserve if suddenly all this ice bulky and cumbersome object above us falls. If suddenly... Under the plan given by the mountain to us, in two hours bombardment by snow and ice collapses will begin, or even earlier. And if we are still on the wall we will recollect our mums and speak: " Mum, give birth to me back! "...