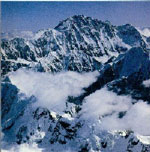 Shisha Pangma, 8027
The team:
Simone Moro ITA
Piotr Morawski POL
Jacek Jawien POL
Darek Zaluski (cameraman and alpinist) POL
Jas Szulc (manager)POL
The map:
The list of "8000" climbed in winter:
Everest: 19.2.1980: Krzysztof Wielicki, Leszek Cichy (Polonia)
Dhaulagiri: 13.12.1982: Akio Koizumi, Nima Wangchu (Giappone)
Manaslu: 12.1.1984: Maciej Berbeka, Ryszard Pawlowski (Polonia)
Cho Oyu: 12.2.1985: Macjei Berbeka, Macjei Pawlikowski (Polonia)
Kangchenjunga: 11.1.1985: Jerzy Kukuczka, Krzysztof Wielicki (Polonia)
Annapurna: 3.02.1987: Jerzy Kukukzka, Artur Hajzer (Polonia)
Lhotse: 31.12.1988: Krzysztof Wielicki (Polonia)
Check out the previous story on the Mountain.RU:

Simone Moro. CV

Simone Moro. Interview for Mountain.RU
Shisha Pangma Winter Expedition
News: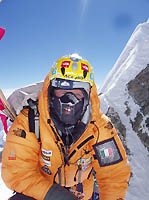 (19.01.2004) new!
17.01.04
10h17 Barbara Zwerger reports:
First call from Simone at 3 o'clock a.m. Tibet time (10 o'clock p.m. European time):
"Hi, we did start to early… We climbed on the fix rope and than I fixed some more rope, but than it was too cold… We didn't feel our feet and so we decided to go back to our tend and here we are warming up our feet with our cooker….!"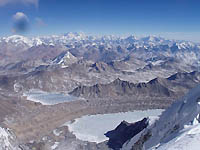 Second call, 7:30 a.m. European time:
"Hi, only now we are out of the channel. I can see Everest and Lhotse. We are now at 7650m and it was very cold in the last hours, about – 40/45 degrees. The last part was harden than I aspect, I had to climb and some times I used dry tooling. It was very difficult and I had to do many work without gloves, fortunately I do not suffer cold too much…. I see also the summit and we will continue, also if now it's 12 o'clock a.m., but here there is sun till 6 p.m. We hope to reach summit….. Bye till later…!"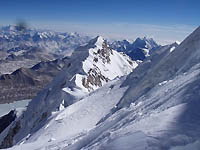 9:50 a.m. European time:
"I'm real sad, but it was to dangerous to continue. I phoned to the Spanish gay who opened this route. They told me, that we have to rappel down about 50 meters to reach the plateau. But the serac was more, about 100 meters and we has not enough rope. So we have to make a lot of difficult traverse instate of the easy ridge. There the terrain was green ice or windblowed snow… It was very dangerous. At 2 p.m. we reached 7700, but Piotr is tired and said me, that we can continue but we have to make one bivy. I think this is too dangerous, because it's very cold and Piotr lost just some parts last winter in K2…. So I prefer go back. This is of sure the 8000 meter peak I attack better. I'm already powerful. Now I'm waiting Piotr at the col for descending together… Bye and hear us later"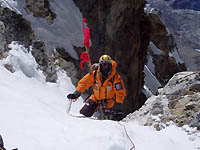 20h09
" Hi to everbody. Now I'm here in Camp 2 with Darek. Piotr went down to Camp 1, because he is too tired for one more attempt tomorrow. Darek came up with Pierre, the canadien gay, but he went also down... Tomorrow, if my finger is ok (he has a little frostbite), Darek and me want to try one more time summit... Hear us tomorrow "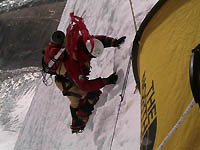 18.01.04
19h45 Simone reports:
" Hello friends!! Now we are here again in Base camp at 5300 mt. Today had been another difficult and extreme day because after the summit attempt of yesterday I stopped at 7100 mt for another to make a second and immediate attemt. The night had been extremly cold and I belive we had lower temperature of 17th January (-52° in the night....!). So this morning I came back from C2 to C1, ABC and Base Camp with a havy pack (35 KG).
I attach the photoes of our attempt on the Figueras Route opened from Spanish team in 1995 and never repeated.. WE STOPPED AT 7700 mt because there was the 3 p.m. and the shadow alrerady came on us and our feet started again to be frozen.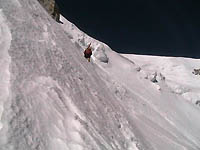 If we continued to climb I'm sure we reach the summit but we have to make a Bivouc (Bivy) in estreme condition risking to die or to loose feets and hands. It had been a very difficult and extreme experience and decision to stop our climb so near and soeasy to the summit...
We are the first man in the story to climb south face of Shisha Pangma in winter and to do the first repetition of the Figueras route but WE DIDN'T summit and we are so sad for this..
I thank you to following us in the last 50 days and I hope you get some good emotions in doing that. In any case I'm really satisfied of the climb because we climbed and fixed rope always in 2 people, me and Piotr. Two people helped from Darek (Cameraman and climber) and Jan (leader and climber very positive.
Keep in touch and I hope to have you also in my next expedition....
Simone Moro "
(16.01.2004)
16.01.04
"Now we are in Camp 2 at 7100 m. We climbed very well and fast, It took me 4 hours and Piotr 5. We carried up some more material, especially food, 50m of Kevlar and some extra mattress. In 8 hours we will start for our summit attempt, the first 200 meters we can climb on the ropes, but than we have to fix the last 200-300 meters till the end of the face. This work we have to do in the darkness of the night, because we will start from our tend at midnight (7 p.m. European time). If there will be news I will call at home, so we can public them on the homepage…. Pray for us and cross your fingers….!"
Simone (via satellitephone)
(15.01.2004)
15.01.04
"Hi! This morning Piotr and me gone from Base Camp directly to Camp 1 at 6100 meters. We feel us very well and tomorrow we will start with the first sunshine to Camp 2. Saturday we will get out of our tend at 12 o'clock in the night for our summit push.
We have to fix other 300-500 meters of rope for our return, so it will be a very hard day for us. Weather forecast is ok, because wind will be not too strong (11-15 m/sec) and there will be only some clouds.
Follow us also tomorrow Simone
(via satellitephone)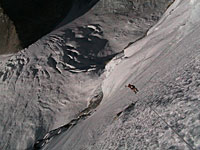 (12.01.2004)
12.01.04
Hi friends!! Here again in front of computer to send you this report.. Darek Zaluski came back to base camp after his night in C2 and ABC.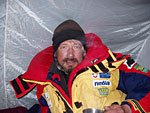 Yesterday our leader Jan Szulc made a nice joke with us and by radio told us from base camp that this morning he wanted to try summit using the bottle of oxigen that he decided to carry in ABC for safety. We ( I and Piotr) was surprised and a little disappointed about this project because we worked 1 and ? month fixing rope and we hope to have the first attempt..... This morning Jan arrived in base camp smiling and joking with us....... "bastard" !!!!
Today we received the weather forecast from Italy where my girlfriend Barbara contacte mr. Gabel in Insbruck. Gabel is really a king of the forecast. No one mistake within 45 days...... Great !!!!!!!!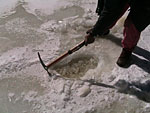 The forecast advised us to wait one day more and try the summit the 17th january. The 19th yaks will start from base camp to go back
Last curiosity. In one of the photoes you can see our cook to arrange water to give us to eat and drink
Ciao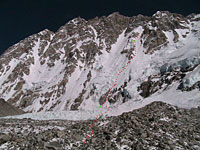 10.01.04
"The games are really in the deep and crucial moment.... We planned to try summit this night but in the last two days we worked as a horses carrying ropes, tends, fods and fixing rope. Now it remain 300 meters different maybe less... to the top of the face (unclimbed in winter) and than we should have 600 meters easy ridge to the summit. You can see from the photos how is the situation. Now we planned two days rest and that the final attempt. We would like to try summit Thursday also because Thuesday and Wedesnday the wind should be till 150Km /h.... We will see the weather forecast Monday.... Follow us "
Simone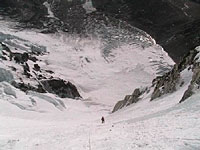 9.01.04
"Hi. Today it was very hard. We left camp 1 at 6100 m very early in the morning and we climbed, as planed, over 7000 meters. There I deposited about 200 meters of rope, then I went back to 7000m to take more ropes and bring them up. Today our rucksacks were very heavy (about 30 kilos per person) and after all this work we took 2 hours to make a platform for our second camp at 7100 meters. Darek, who has 2 mattresses, went back down before reaching the second camp. So Piotr is without a mattress and laid on our rucksacks. Fortunately I brought mine by myself. The tent is not flat and we are very tired after this 12 hours of hard work, but we are not able to sleep….! Tomorrow morning we will get up very early, then we have to go down to bring up ropes that we deposited further down. If our bodies allow it, then tomorrow we will fixing till the ridge, hoping that we have enough rope….. Ciao and follow us also tomorrow
Simone (by satellitephone) "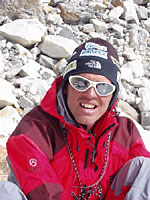 (9.01.2004)
8.01.04
"Today I make my report by satellite phone - we reached directly Camp 1. We were very quick and this means that we are well acclimatized. Up there we are 3, Piotre, Darek, and me. Tomorrow all of us will bring up 100 meter of line and we will climb over 7000 meters.
We continue hoping that we can find a small place for our tents over 7200 meters and to avoid a bivi in a crevasse at 6700 meters. If we are able to fixing the ropes according to plans, than we will try summit on Sunday. Weather forecast is ok and wind will be not too strong. Next week wind will be very strong (full jet stream), about 100 km/h with maximal points of 150 km/h..."
Ciao till tomorrow
Simone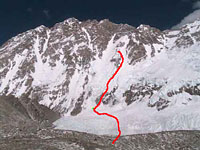 (6.01.2004)
5.01.04
"Hello friends! We are back to base camp after 3 difficult days on the face. We reached 7000 meters and fixed totally 1500 meters of fix rope.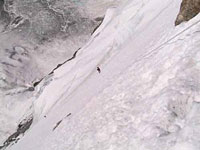 We didn't find yet any place to fix our last camp ( C2) and we still continue to climb and fix rope... We think to do a bivac for the final attempt... The face is totally icy and vertical and we have to climb with helmet and 2 ice axe. From the summit ridge continue to fall stones and ice and we "play" to avoid the impact... I'm sending you 2 photos to understand our climb.
Follow us, Simone "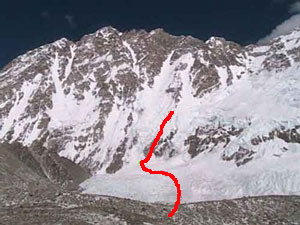 (5.01.2004)
31.12.03
"Here is 19:09 and there is a strong wind that is trying to destroid our dining tend and blowing out everithing. I'm writing at the computer but I'm ready to run out from here in case the wind will win his challenge... After few hours we will have new year and we really hope that it will take again the good weather of the last days. Three members ( 2 canadian + the polish leader) are in C1 and tomorrow they will try jumaring on the rope and carry new ropes till 6700. I attach in this message one photo with the itinerary we climbed and fixed. After the point we reached the inclination of the face will remain high but maybe little less than the first part we climbed. I phoned to the first climbers of the route (Figueras '95) and he told me that there is no place for high camp on the face and we will have to work hard to get a platform. The face is completly a green and hard ice... I wish to all of you a nice 2004 with health and smile...
Simone & C."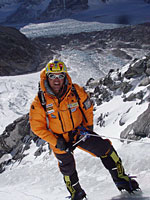 (30.12.2003)
30.12.03
"Hi friends! We are back to base camp after 3 days working high. Yesterday we fixed till 6700 meters and we are satisfied. The face is like a green ice fall and we have to climb with 2 ice axe and carefully.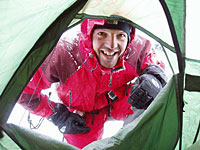 Yesterday I, Darek and Piotre worked hard on the face and I climbed with a 500 meters rope fixed on my harness...and at the end I fixed with 3 rock pitons. On the way dawn I fixed the rope each 70 meters with ice crew and now we have 800 meters ready to be climbed with jumar.
Tomorrow Pierre and Jan should carry fix tope till 6700 (the final point of fix rope) and than we will continue the job in fixing...
There are no place for C2... and we will study another solution....
Happy new year! Ciao Simone"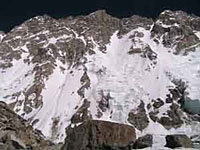 (24.12.2003)
24.12.03
Simone Moro reports:
"Since few hours we came back to base camp at 5350 mt. Yesterday starting for our ABC at 5650 m we find place for Camp 1 at 6100 m and we carried some equipment there.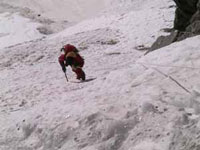 I also climbed till 6400 meters on the spanish route fixing 300 meter of rope.
Tonight we will have our Christmas and we will take a 2 days rest and than we will continue in fixing rope.
Merry Christmas"
Simone and all team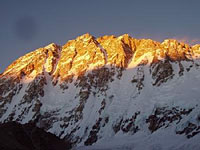 (22.12.2003)
21.12.03
Simone Moro dispatches:
" Ciao!
I'm in Shisha Pangma base camp again. Today I came up directly from Nyalam and now I'm quite tired. Tomorrow we will go up to work on the face till Christmas and than we will take a rest. The weather conditions are still good.
Only cold and wind....
Ciao
Simone"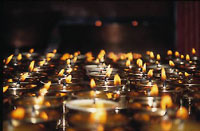 (19.12.2003)
18.12.03
Simone Moro dispatches:
"Tomorrow I will get my new Cina visa. and the day after I will start from Kathmandu to return in Base camp. My sickness is going better and better and the virus disappeared using antibiotic. I planned to arrive to base camp in two days from Kathmandu. My friends also are feeling better and they established 2 tends in ABC. They report me, that the weather and temperature had changed and now is extremely cold always. We will have a particulars Christmas and during the expedition we will continue to update you about our progress. Two English climber (Andy Parkin and Victor Sanders) that started the 2nd November to climb the same our face and mountain are living Base camp and returning home. They didn't reached the summit because of strong wind. They should reached camp 2 but only when I will personally meet them or my friends I will be more precise about that. They are friendly giving to my members some advises for our next month.
So follow us
Simone"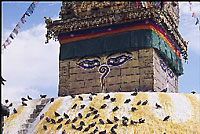 (16.12.2003)
15.12.03
"Simone Moro dispatches: Yes I'm in Kathmandu... In less than 23 hours I "runned down" from 5255 meter in Tibet, than 40 km by walk, than jeep, 2 borders, other 4 hours jeep and I arrived here in the Nepaly capital. Why??? A strong virus "killed" our health and 5 on 7 members get sickness. I personally get around 40 degrees fever in base camp and no stop couching. Impossible to sleep and completely week. Same of few different condition also the other members. Now we know that in Zangmu and Nyalam villages there are most of the local people affected from the same virus (no SARS...!!!). For that reason I decided to come here and get a special clinic visit. After that I will decide what to do even my idea is to return in Base camp.
The other member Jazec (from Poland) was still waiting in Nyalam to get better but I recognise immediately that he has a serious pulmonary oedema and I took him with me in Kathmandu and I will organize the flight back to Poland as soon as we can. After few hours I will contact the members on Shisha Pangma base camp and I will know how they feel. Usually to remain in high altitude it mean to have a very slow recover and for my experience I prefer to come immediately down and resolve the sickness in shorter time. A "normal" sickness can compromise the personal carrier if you don't keep it immediately. In any case we will keep in touch Simone Moro "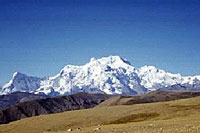 (15.12.2003)
10.12.03
"Hello my friends. I'm writing from a new web point in Nyalam and really I don't know how it can works... Today we have the last day in Nyalam and we get a difficult discussion with Leason officier of TMA and Yak drivers to decide how many yaks we will need and totally they will be 36. We also hardly discuss for the price and finally we find an agreement. Tomorrow early morning we will start for the first of the 2 days trekking to the base camp. Today we will do also a short acclimatisation excursion on the hills around Nyalam.
Ciao Simone"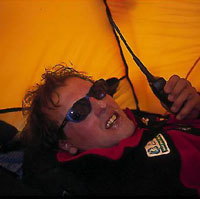 14.12.03
"Virus infection knock us out…! Now we are in five (totally we are seven) to be ill. First there was one polish member in Nyalam and on the trekking. He is now back at home. But the illness is going on with other members. Yesterday evening I had more than 39 degree fever and I have a sore throat and cough. Today I did the long and hard walk from base camp to Nyalam, tomorrow I will reach Kathmandu, where I will visit one doctor. I hope the situation is not toî bad…..! The other members (some also ill) are still in base camp. We will hope for the best! Bye and hear us soon
Simone (by satphone)"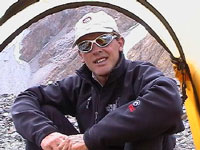 (8.12.2003)
07.12.03. Simone Moro:
" Hello friends! We are in Zangmu in Tibet. We arrived at 6,30 p.m. (chinese time). Tomorrow we will go to Nyalam and we will remain there 2 days. Today we received some news from liaison officer that there are two English climber in base camp since November and they planned to try south face of Shisha Pangma.... They also organize their return on 18th December.... We haven't information about their actual position on the mountain but L.O. said that they reached 6800. In really they will be back the 18th we have some difficulties to consider winter climb that expedition. If nothing changed in the world, winter start the 21st December. In any case we didn't feel in competition with anybody and honestly I wish all the best to this light expedition. Our plan is to open new route and not to repeat the Wielicki route (if the condition will be good)
Ciao"
Simone

(1.12.2003) new!
Simone dispatches:
"After few hours I will fly to Kathmandu. After 3 day they will also arrive in Nepal 4 climbers from Poland. Our aim is to realize the first winter ascent of Shisha Pangma 8027 mt. As you see in the list I will attach in this e-mail there are still 7 peaks over 8000 meter that are unclimbed in winter..
The team will be of 3 climbers + one other base camp manager. We will attempt the Krzystzof Wielicki route. He had to come with us but at the last time he get a family problem. Also my climbing partner Denis Urubko had to come but he get budget problems. It will be a difficult and extreme climb but I'm not looking for easy life and climbs because in that case "I have many way to find different fun and relax... It will be possible to follow me on my web site www.simonemoro.com "