Author: Anna Piunova, Mountain.RU
Piolet d'Or 2004 goes to Jannu North Face!
Team Russian Way - World Walls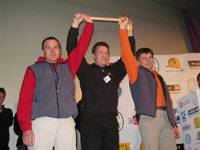 Some details about six Piolet d'Or nominees
On February, 25 Piolet d'Or the 14-th victory ceremony took place in Grenoble. "Groupe de Haute Montagne" (GHM) and "Montagnes Magazine" edition presented a wide audience six the most outstanding ascents of all modern mountaineering styles accomplished in the most different latitudes, from Alaska up to Patagonia in 2004.
Jean Christophe Lafaille, France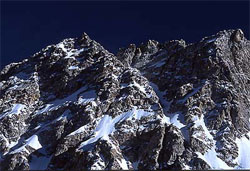 Photo www.planetmountain.com
Solo ascent of Shisha Pangma's South Face, 8046m, Tibet, Himalaya
Jean Christophe Lafaille- the first climber in the Himalaya history, soloed face to face "8-thousand" mountain without use of supplementary oxygen, in Alpine style via the technically complex route (Scott/Maclntyre-Baxter-Jones + a variant (new site) at altitudes from 5800 up to 7000m) in winter conditions.
Date: November, 11 - December, 15, 2004. Summit - December, 11.
Route Extent, grade: 2200m, VII - ice 80º, mixed 55gr.
Ascent Duration: 3 days (December 9, 10 and 11) for summit push started from base camp. Descent to BC on December, 12. Three nights at 7000m.
Ascent Style: 90% Alpine style. Free climbing and a 200-meter site of fixed ropes at 7000-7200m.
Thomaz Humar and Ales Kozelj, Slovenia. Aconcagua, South Face, 6960m, Argentina, Johan's Route First ascent
Moral courage demonstration: after the hardest traumas received at unsuccessful falling at repair his own house and numerous operations Thomas managed to return to "the big mountaineering" again. He and his friend Ales Kozelj together spent five days and finally summited the challenging Aconcagua, Southern face.
The route is named in memory of Thomaz's climbing teammate on Nuptse-97, Janez Jeglic, swept away by the gale-force wind from the summit ridge.
Date: December, 2003, the two last weeks
Route Extent, grade: 2500m, VI, 6b, A2, Ì6, ice 100gr.
Ascent Duration: 6 days on mountain, from December, 17 till December, 22. 5 camps.
Ascent Style: Alpine style, free climbing except for two sites needed AID.
Check out on the Mountain.RU: Tomaz Humar and Ales Kozelj to Aconcagua's peak along a new route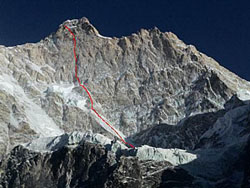 Alexander Odintsov, Alexander Ruchkin, Sergey Borisov, Michael Mikhailov, Gennady Kirievsky, Michael Pershin, Nikolay Totmyanin, Alexey Bolotov, Eugeny Prilepa, Dmitry Pavlenko, Russia. First ascent Jannu North Face, Direct line, 7710m, Nepal.
The strongest world climbers have championed the first ascent on Jannu North Face since the beginning of 80-s'. Russian tactics (capsule style, fixing the rope), probably, seems not the most elegant, however, the majority of the climbers who have tried this wall consider that it's the only way to climb it.
Date: April, 5 - May, 28, 2004
Route Extent, grade: 3100m, 72 pitches, VII, 6b, À3 +, ice 4, Ì6.
Ascent Duration: 50 days
Ascent Style: free and AID climbing, then fixed ropes, bivying on the route.
Check out on the Mountain.RU: About Panasonic-Jannu North Face expedition
Kevin Mahoney and Ben Gilmore (USA), first ascent of "Artic Rage" route, Moose's Tooth, 3150m, East Face, Alaska
This ice and mixed line led on grandiose cascades is a dream of lots of climbing fans. The two-man team sent the chain of tremendous technically complex gullies in very bad weather conditions. Originating on the wall on one of Bridwell's routes Artic Rage line strongly straightens to the summit of the Mountain - the symbol of Alaska.
Date: March, 20 - April, 3, 2004
Route Extent, grade: 1500m, VI, A2, ice 6 +.
Ascent Duration: the first attempt - two days (March, 22-23). The second attempt, crowned success, made for three days (March, 31 - April, 2).
Ascent Style: Alpine style. Free climbing, except for the one AID-climbed pitch.
Note: exactly this ascent side by side with Jannu climb was the real winning pretender in the judges' opinion.
Elio Orlandi, Luca Fava (Italy) and Horacio Codo (Argentina). First ascent Linea di Eleganza, North-East Face, Fitz Roy, 3440 m, Patagonia, Argentina.
It's the most "direct" line leading onto on NE Face up to the Fitz Roy's summit.
One of the challenge, rare, successful ascents in Patagonia in 2004 took 8 days on the mountain during the rare but happy period of steady weather, in the magic mountain massif where the sun and snow flurry charges promptly alternate with each other the same day.
Date: from the middle of December 2003 - February, 10, 2004
Route Extent, grade: 1450m, VI, 6ñ, À3, Ì7.
Ascent Duration: 8 days on the wall. 6 nights in a portaledge.
Ascent Style: free- and AID- climbing, then fixed ropes.
Steve House, USA. Solo First ascent K7, Southwest Face, 6942m, Pakistan.
Steve discovered this line in 2003 and right then made four attempts to climb it.
Only in his third try he managed to solve the crux - a rocky site in the bottom part of the wall. But Steve had to bail at 6200m due to a storm. On July, 17 he reached the main difficulties Ì6 + and À2 at 6800m too late.
On July, 24 he got there much earlier, at 11 am and successfully summited.
Date: July, 2004. 29 days on the mountain, numerous attempts.
Route Extent, grade: 2500 m, VII, 6a, A2, M6 +, ice 80gr.
Ascent Duration: 41 hours 45 minutes, on July, 24 and 25.
Ascent Style: Integral solo ascent (non-stop), free climbing except for the 20-meter pitch AID-climbed.
THE JURY PIOLET D'OR 2004
Krzysztof Wielicki, 14 8000m peaks climbed, president of the Jury;
Leslie Fucsko, president GHM
Guy Chaumereuil, founder of the Award Piolet d'or;
Valeri Babanov and Yuri Koshelenko, winers of the Piolet d'or 2003 ;
Stephane Benoist nominated for the Piolet d'or 2003, GHM;
Yvette Vaucher GHM
Montagnes Magazine the editors ;
Portfolio
Prior to... Presentation of the Projects to the Jury

Break

Evening. Ceremony of rewarding

In momentary expectation...

Party
Happy End!