Author: Oleg Fomichev,
Tourist club of Moscow State Technical University named after N.E. Bauman
Traverse of Bezengi Wall, Bezengi region,
Central Caucasus, Russia

Mt. Skhara Main, 5068m, - Mt. Lyalver, 4350m,
(5B, 5202 max)
General information:
Area: Russia, Central Caucasus, Bezengi, The Great Caucasus Range between Mt. Skhara Main and Mt. Lyalver.
Terms: August, 7-19, 1997
Team: 4 members:
Fomichev Oleg - the leader.
Antonov Alexey,
Dronin Artem,
Shlyantyaev Alexander.
Support team (Evstafyev Nikolay, Glazer Alexander, Khalgatyan Boris) was staying first at Austrian hut and then at Barancosh shelter until 12.08.1997.
Ascent: from Austrian hut via NE ridge up to Mt. Skhara Main summit.
Descent: via Churlenis Western saddle (4220m) to Kel saddle (3600m) after a radial ascent Mt. Lyalver.
Character of the route: snow-rock-ice.
Common traverse net running time of movement on complex relief (belayed climbing on snow-ice and rocky-talus sites of more than 30 degrees) - about 65 hours.
Maximal altitude: about 5200 m.
Conditions of change of the grade-category: revert traverse Mt. Lyalver-.Mt. Skhara Main - 6À.
Main difficulties:
a) Snow cornices on ridges;
b) "Moving" stones and plates on rocky sites of the ridge.
Safety rules:
a) Not to leave on a cornice break line;
b) To check loaded stones and hammered bolts.
Special equipment (for four persons):
1. Two 50m-main rope of 9.5 mm
2. Auxiliary cord of 50 m
3. Rocky bolts- 12 (it's the minimum, really we needed more)
4. Chocks - 10
5. Friends-5
6. Rock hammer- 1
7. Ice hammer - 1
8. Snow anchor - 3
9. Account cord - 10 m
10. Ice screws - 12
11. Loops - 8
Personal special gear: - crampons, a helmet, an ice axe, karabiners (7-8), a jumar, a descender.
Convenient camp sites: see photos - points 1, 2, 3, 6, 7, 9, 11, 13, 14B, 16, 20, 21, 23, 24, 25, 29À, 30, 34, 37, 38, 41, 43.
Natural and other sights: views on Dykh-Tau (5204m) massif and to Georgia; snow cornices and caves in crevasses (in points 7 and 25). A from Mt. Gestola (4860m) summit and from Mt. Lyalver summit on Bezengi Wall
Messages, taken at the summits:
a) Mt. Skhara West (5057m) (a team from Riga, Latvia, dated 01.09.1995, 4 climbers, the head - Pavlov Dmitry);
b) Mt. Dzhangi East (5038m) (a team of MIFI, Moscow, dated 11.08.1997, 4 climbers, the head - Peregudov Dmitry);
c) Mt. Gestola (4860m) (a team from Saint Petersburg, dated 19.08.1997, 3 climbers);
d) Mt. Lyalver (4350m) (a team from Saint Petersburg, dated 18.08.1997, 3 climbers).
Route description
1st day (7.08.97)
All the day long the weather held very good - a weak wind, rare overcast. After 10.00 am a roll cumulus appeared above Mt. Shkhara Main.
Pitch (1) - (2). From Austrian hut we traversed the left moraine and descended to Bezengi glacier and then moved further on its right (orographicaly) slope and firn basins located in a pocket near Warsaw gendarme rocks (rockfall dangerous) headed to the plateau between icefalls. Then on the plateau to an icefall between north-east and northern ridges of Mt. Shkhara Main on the right side (orographicaly) up to a small plateau under the north-east ridge's rocks with hanging ice faults. Further roped up we moved on the closed glacier and an icefall. Running time - about 3 hours.
Pitch (2) - (3). From the plateau via a very torn snow slope of 25-35 degrees upwards - to the left along rocks up to a snow pillow at a northern-west buttress. 25 minutes.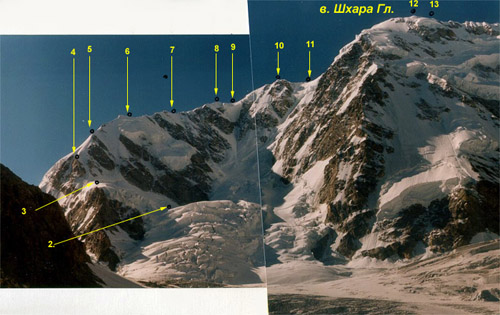 Pitch (3) - (4). From the pillow through a bergschrund and then on an abrupt (about 45-50 degrees) ice couloir, crossing it from the left to the right, then 200 m onto the fixed rope up to a snow ridge above rocks - about 2 hours.
Pitch (4) - (5). Onto a snow-ice slope of about 40 degrees on the right side of the ridge 300 m of alternate leading (through an ice axe) and simoclimbing (through ice screws) up to the northern-east ridge of Shkhara. 2,5 hours.
Pitch (5) - (6). Onto a sharp snow ridge with a short about 10m-rocky site of average complexity and a short site of a flat wide ridge up to a wide ridge's saddle above ice faults alternate leading climb (through the ridge and an ice axe). 3,5 hours.
It is important to note, that the condition of the ridge strongly depends on winter snowiness and a season. In 1997 there was much more friable snow and sharp snow sites on NE ridge of Shkhara and The Great Caucasus Range in comparison with 1996. And that deadened our team's headway.
Starting from the second day till the eleventh one the leader had a lightweight rucksack.
2nd day (8.08.97)
The second and the last day of fine weather during our traverse. After 10.00 am a cloud appeared above Shkhara again and a weak wind arose, but all the day long we could observe challenging Dykh-Tau massif and the dark blue sky.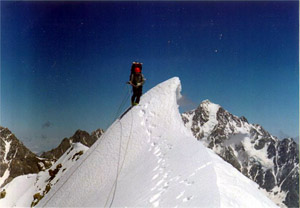 Pitch (6) - (7). Alternating climb (through an ice axe, a snow anchor and a ridge) onto a snow sharp ridge with several ice gendarmes, short sites of simple destroyed rocks up to a wide plateau on the ridge. 400m for 4 hours. There is a powerful crack in 5m from east side of the ridge with a huge cave for convenient spending the night.
Pitch (7) - (8) - (9). On a snow-ice, rather wide and flat in places ridge with slopes of 30-40 degrees simoclimbing (occasionally alternating leads) through a big ice gendarme (8) up to a wide saddle before the summit slope of Mt. Shkhara East. About 2 hours.
Climbers should make a point of the cornices.
Pitch (9) - (10) - (11). On a wide snow gentle slope (simoclimbing) and a sharp snow-ice ridge with cornices up to Shkhara East summit (10) (alternate leading through ice screws, snow anchors and the ridge). About 2 hours. Attention to the cornices. Near the top there are some simple destroyed sites of rocks at a rugged ridge. Descent from the summit on simple rocks and a snow-ice ridge (alternate leading via fixed rope on slopes of about 40 degrees) up to a wide saddle before a long rise up to Mt. Shkhara Main summit. About 1 hour. Spend the night here in a convenient place.
Photo 2. At the pitch (6) - (7)
3rd day (9.08.97)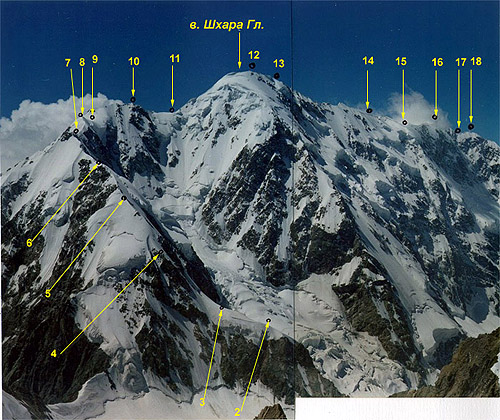 Early in the morning it began snowing and continuous overcast, visibility was about 15 m. On a portable radio set we agreed with our support group about communication every hour after 8.30 am. Already at 9.30 Nickolay Evstaf'ev pleased us telling that there was remarkable weather below and only a "small" cloud hanged above Shkhara up to Sandro saddle, and there was in general the blue sky above Dzhangi-Tau and Gestola that we could climb further. Heated with such news we gathered and soon left heading to Shkhara Main summit at visibility about 30-50 m.
Pitch (11) - (12) We simoclimbed via fixed ropes from the left of the ridge on a long flat snow-ice slope with several crevices that we bypassed from the left (100 m on 35-40 degree-ice slope covered with a thin layer of snow in the bottom part) up to Mt. Shkhara Main summit. About 1,5 hours. Pay attention and be more accurately with cornices! There is a cairn on rocks of southern side of the ridge in 15 m.
Pitch (12) - (13). From the implicitly expressed summit near to a wide snow western ridge onto a southern slope of 20-25 degrees simoclimb about 250 m. 20 minutes up to a wide flat saddle.
Unfortunately, visibility did not improve. Having stopped to have dinner we communicated on a portable radio set with our support team. They informed that the entire Bezengi Wall was in clouds and even Gestola was not visible. We decided not to push luck and to stay the night here, at 5180m. And, as it turned out later we acted right way.
By the evening it started sleeting and a powerful thunder-storm began. All the iron things we throw out of the tent and were keeping track of "storm front" on flashes of lightning and bursts of thunder. One "fine" moment lightning discharge was somewhere absolutely close to the tent. We did not want even to open eyes: lightning blinded even through a sleeping bag.
4th day (10.08.97)
Early in the morning visibility was up to 20 m again. The diagram of atmospheric pressure at a Casio watch showed something anomalous. We received the impression that, the blue sky above Shkhara Main summit appeared usually for no more than 2-4 hours a day and only in the morning. Damp air from the sea traveled from the south with a great speed and it could plainly regenerate in a cloud above the highest mountain of the Great Caucasus Range.
We started lately further climb at about 10.00 am when good visibility appeared for short while. A very strong wind that blew all the day long prevented our climb and our technical work on a complex relief seemed rather difficult.
Pitch (13) - (14). From the bivy site we climb about 100 m roped up on a flat southern slope to the left of the western ridge with cornices. Further the slope became a little bit more abrupt (about 40 degrees), the ridge - sharp and very rugged. Then about 100 m of alternate leading and simoclimbing (through ice screws). The firn represented a puff pie of thickness about 30 cm with layers of thin ice between which there were friable snow or sleet. An ice axe was hammered in half and cut the layers of ice under load. It was not convenient to dig snow with an anchor because of ice and we had to make big niches for ice screws with the help of the pick. Generally speaking, if we had had smaller rucksacks and left hoard somewhere in Dzhangi-Tau East we would have climbed such sites roped up without alternate belay through ice screws.
Further we climbed a dissected sharp ridge with heavy snow-covered simple and average complexity rocks. Fine buttresses left from The Great Caucasus Range to the south through which it was convenient to organize safe belay. Small cornices hanged down often to the north. In spite of the fact that the rocks were simple, we spent a lot of time clearing them from friable snow and broken ground with a plenty of moving stones. In the beginning of this site we rested against a small snow-ice gendarme similar to a trihedral pyramid with abrupt sides and bypassed it through a buttress from the south. Then we climbed a site of rugged rocky ridge of about 50 m for 1 hour 20 minutes. All the team's members should have enough good individual rock-climbing technique because it was a big problem to organize a safe belay point on such destroyed ridge every 3-5 m but any fall could likely lead to trauma. If it was possible we set belay point through the ridge and snow anchors. After 200 m of rocky part of the ridge we went on a sharp snow-ice ridge up to Shkhara Western summit. And there we rested against a snow-ice gendarme at about 5150m between Shkhara Main and Western summits. We came to it with the alternate leading through the sharp ridge, fixed the rope and climbed the gendarme via more flat northern slope. From the place of spending the night we climbed onto a rocky and snow ridge up to the gendarme about 200 m of fixed rope and 200 m alternate leading climbing. From the gendarme to the West onto southern slope (about 40 degrees) we went near to the ridge about 100 m simoclimbing and alternate leading through ice screws. All these meters seemed very difficult in many respects because of constantly strong southern wind, pure visibility (15-40 m, because of frequently shrouding cloud and charges of snow. In total from the place of spending the night we reached here for 8 hours (net-time plus rest).
Pitch (14) - (14À). There was not any visible convenient place for bivy ahead on the sharp ridge but on the southern snow-ice slope of 45 -degrees in 100 m from the ridge we found a remarkable bergschrund and descended to it on fixed ropes for 20 minutes. At a buttress (on the right on our course) there was a powerful snow bridge through the bergschrund. Altitude difference between the top and bottom edges of the bergschrund was about 3 meter. In a convenient "safe" place we settled a tent and in the evening we enjoyed green views of Georgia in the distance. The wind was still groaning above The Great Caucasus Range, but there was silence in our camp inside the bergschrund.