Author: Anna Piunova, Mountain.RU
Photo: from author's and nominees' personal archives
Piolet d'Or -2006
Ascents, comments of the climbers
Jury

Jury Koshelenko, Russia, the President of the Jury (winner of the
Piolet d'or 2003 together with Valery Babanov
for their ascent of Nuptse)


Michel Piola, Switzerland,
(Piolet d'Or in 1992 for a new route on Torres del Paine)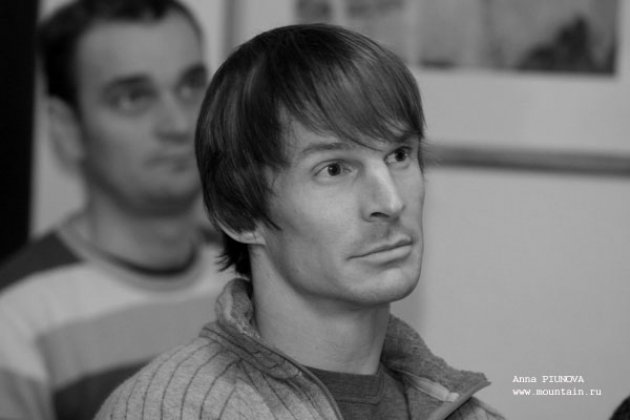 Steve House, USA

Vince Anderson, USA (both winners of the
Piolet d'Or 2005 for their ascent of Nanga Parbat)


Christian Trommsdorff, France (nominated for the
Piolet 2005 for a traverse on Chomo Lonzo)
Slovenians Boris Lorencic and Marko Prezelj with their Chomolhari, 7326m, Tibet , ascent via more than 1800-meter Northwest Pillar, won the 16 th Piolet d'Or.
| | |
| --- | --- |
| Marko Prezelj | Boris Lorencic |
Chomolhari
First ascent: 1937, from the South
Route: NorthWest Pillar
Extent: 1950m
Days on the mountain: ascent - four days, descent two days (via ascent route)
Term: October, 13-18 2006
Declared grade: engagement VI, mixed M6+
In 1991 Marko Prezelj and his partner Andrej Stremfelj won their first (and the first-ever) Piolet d'Or for their five-day alpine-style ascent of a new route on Kangchenjunga South Face (8476m).
16 years later, in 2007, Marko gets away to Slovenia the second Piolet d'Or, this time for the new route on Chomolhari Northwest Pillar that he climbed in Alpine style together with Boris Lorencic (Prezelj led all the pitches).
«On its beauty and elegance the route can be compared to the Golden Pillar on Spantik, - Marko said,-
Piolet d'Or is a competition, whether the organizers will that or not. I came here not for the win but to touch base with the like-minded guys. Not official ceremonies in the closed-door halls but a general mountaineering meeting, as if all the nominees are congregated together somewhere in the mountains to climb hand to hand, can generate much more value to mountaineering.
In Piolet d'Or ceremony the sponsors, media, sportsmen, public - all of them are engaged in sex with each other and nobody will be satisfied.

Chomo Lhari
mark.amebis.si


Chomo Lhari
mark.amebis.si
Chomolhari
Chomolhari is a sacred mountain for Tibetan Buddhists located on the Tibet-Bhutan border. The seldom visited mountain is about 7326m (various altitudes according different sources). In 1937 Spenser Chapman and his well-known partner Dawa Lama first climbed it from the south.
Marko Prezelj :
«For the first time the idea about Chomolhari expedition came into my head about ten years ago. Turning the leaves of Chinese Mountain Almanac, I hit upon a small picture of a pyramid-shaped mountain in Tibet , wrote its name on a patch of paper and began to search any information about the mountain in the Internet: Tibet- Bhutan boundary, Chinese army - fast-read complexities.
In 2004 Roger Payne and Julie-Ann Clyma made the fourth ascent on Chomolhari via the South ridge. In February I met Roger in Tokyo and I asked him all that I was interested in».
In October six Slovenes Marko Prezelj, Boris Lorencic, Rok Blagus, Samo Krmelj, Tine Cuder, Matej Kladnik, Damian Mesko (a doctor) and Tsering (a cook) pitched their base camp on the bank of the sacred lake Chomolarang at 5100m, under Chomolhari N orth face.
The mountain covered with fresh snow was appearing white and the wind did not want to sink at all.
While the guys were acclimatizing on the neighboring peaks of 5700-5800m (most part of the time floundering knee-deep in snow), in BC the wind torn down and thoroughly snow-covered the tents: - kitchen, dining, depot, and a pair of personal ones. So, the wind became the real participant of the expedition.
«On October, 12, after 10 days of acclimatization climb, we set the first bivouac on the North face . Rok Blagus, Tine Cuder, Samo Krmelj and Matej Kladnik climbed up the North face via a couloir and reached the east ridge, which they followed to the summit on October 14 (1900m, 80/45-60, TD +).
Boris and I took up the challenge of NW pillar. From the first camp, traversing the mixed buttress we got the ridge. The snow was deep, we climbed abrupt firn- and ice-covered terrains. And on the ridge the wind that had left us for a short while came up with a bang again. It was becoming harder and harder to move ahead sinking on 30cm into the snow every step.
Hardly guessing our traces, we returned back to the camp shielded from the wind by a snow cornice under an overhang.
Next day having taken only spare gloves and something to drink (our drink turned into ice earlier than we ever intended to have it), we set off with the object to test an abrupt pitch and if weather permits to try summit push.
Increasing wind was from the one hand and more than serious climbing M6 + - from the other. A dense blanket of sparkling powder snow clouded everything around and seriously complicated visibility.
The idea to reach the top sank into oblivion. Having found a bearable site for a next bivy, we returned to the C1.
Next day we hauled all the gear to the new camp site where had a two-hour romp with tent setting.
It was the fifth day of ascent when in the frosty morning we were ready for the last bid.
Three long hard and interesting pitches led to the snow-covered ridge, then one more abrupt section that seemed to be very uneasy problem in a case of deep snow.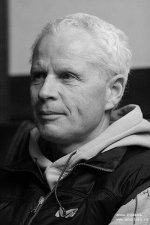 Michel Piola
The last 100 meters to the summit were habitually accompanied by the mad wind.
We descended via the same route to the first camp and for the sixth day at last appeared in base camp.
The climb was very serious logic and tactical decisions superseded the usual "gymnastics". I led all the route (1950m).
Garde ED , M 6+, 70˚».
Pavle Kozjek: «I know Marko right well and for a long time and if he needed four days for a climb, it means it is just impossible to climb this route faster».
Marko Prezelj: «At first I was taken aback a little by Michel Piola's questions, but then I tried to be maximum fair and sincere in my answers. Sometimes people have so great mind to win that juggling with facts begin but I would like to change this situation here, on Piolet d'Or».
Denis Urubko and Sergey Samoilov (Kazakshstan)
New route up the NE Face of Manaslu (8163m) Nepal
| | |
| --- | --- |
| Denis Urubko | Serguey Samoilov |
Last year the two-man team of Kazakh mountaineers climbed a new route in alpine style on the S Face of Broad Peak (8047m). And in spring 2006 - marginal recurrence- Manaslu . The duo has already received the Piolet d'Or Asia for this ascent on 10 November in Seoul , Korea .
Manaslu, 8163m
Route: NE Face
Extent: 3200m
Days spent on the mountain: 4 days ascent, 2 days descent down normal route along the N Face
Term: May, 4-9, 2006
Declared grade: engagement VI, rock 6a, ice and mixed up to 70°
Igor Chaplinsky, Orest Verbitsky and Andrei Rodiontsev ( Ukraine )
New route up the N Face of Shingu Charpa (5600m) Pakistan
| | |
| --- | --- |
| Igor Chaplinsky | Andrei Rodiontsev |
The first successful ascent of the ridge. A few days later the Americans Kelly Cordes and Josh Wharton repeated the Ukrainian route confirming the both the difficulties and the beauty and elegance of the line.
Shingu Charpa (5600m) Pakistan
Route: N Face
Extent: 1550m
Days on the mountain: 5 days ascent, 2 descent down the same route,
Term: July 2006
Declared grade: engagement VI, rock 7°+, mixed M5 close to the summit
Read..
People's Choice Award: Pavle Kozjek , Slovenia
Solo ascent of the SE Face of Cho Oyu (8201m, Nepal ) in less than 15 hours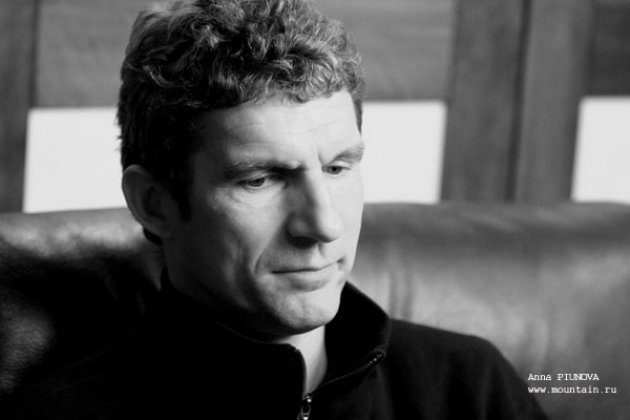 Pavle Kozjek
Cho Oyu (8201m, Nepal )
Route: SE Face, solo, Alpine style
Extent: 2000m
Days on the mountain: summit on 2 October 2006 , 18.00, then descent to Camp 2 along the normal route on the W Face, to 7000m.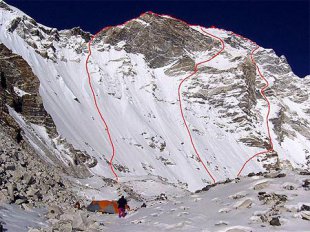 www.extremekanal.com
Declared grade: engagement VI, rock 4+ at 7200 m, snow and ice 60°
Base camp was set at 6200m on Gyabrag glacier. One push ascent with the time 14 hours 30 min. The first 1100 meters - a new route, further getting the ridge (Polish route). The crux - ice cascade at 7200m right under the ridge. Minimum gear and food. Deep snow on the ridge that complicated climbing.
Pavle's p artners Paul Uros Samec, Aliaz Tratnik, Marjan Kovac and Emil Tratnik summited the mountain via the same route next day.
For 18 years of Pavle's climbing career it was his third visit the Himalayas . In 1989 together with Andrey Stremfel he made the first ascent in Alpine style of Shishapangma South face.
In 1997 Pavle became the first Slovenian mountaineer climbed Everest without supplementary oxygen.
Ian Parnell and Tim Emmett ( Great Britain )
new route up the SE Pillar of Kedarnath Dome (6830 m), India .
| | |
| --- | --- |
| Tim Emmett | Ian Parnell |
- May I ask you a question? Why all the nominees are in the first row, but Ian and Tim - in the second?
- Because we, Frenchmen, do not like Britts :-)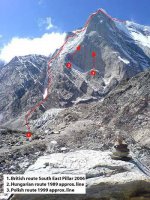 Kedarnath Dome
Kedarnath Dome, 6830m, India
Route: new route up the SE Pillar
Extent: 2000m
Days on the mountain: 7 days (2 days for descent)
Term: October, 1-9 2006
Declared grade: engagement VI 6c expo, mixed M3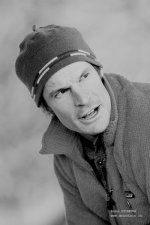 Steve House
Alpine style, minimum gear, hard rocky terrain with poor protection and belay.
Tim Emmett is one of the best climbers of the United Kingdom (" I am not the climber! "), his rock-climbing interests are extensive - from classical trad routes (more often together with Leo Houlding), up to fashionable nowadays B.A.S.E.-jumping and deep water solo.
Having on-sighted the crux 6c at 6000m Tim was "at fault" a little, but nevertheless then noted, that climbing on categorically disintegrated pitches of 6 c was psychologically much more difficult: «Sometimes it seemed to me that I'll never be home again».
After that Steve immediately reacted from his judicial armchair: "Welcome to alpinism, Tim".
| | |
| --- | --- |
| Steve House | Ian Parnell |