Ïèøèòå â ÔÎÐÓÌ íà Mountain.RU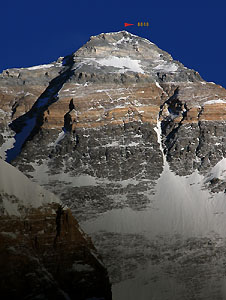 Hi-Rez
Mt. Everest, 8848ì
The North Face
The leader of the expedition is Victor Kozlov

The senior coach is Nikolay Chernij
Coach: Alexander Pyatnitsyn, Rostov - na-Donu
Doctor: Sergey Bychkovsky, Ekaterinburg
Videooperators: (up to 6200m) Igor Borisenko, Sergey Shakunin
Photographer: Vladimir Kuptsov
Terms of the expedition: from February, 25 till June, 9, 2004
Participants:

Jury Koshelenko, Rostov-na-Donu

Eugeny Vinogradsky, Ekaterinburg

Sokolov Gleb, Novosibirsk

Ilyas Tukhvatullin, Podolsk - Tashkent

Alexey Bukinich, Sochi
Sponsors: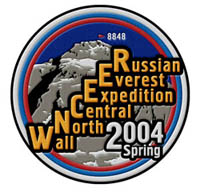 The information was prepared by Anna Piunova, Mountain.RU
Expedition "Everest Northern Face "
On Friday, February, 20, in World trade centre a press conference concerning forthcoming departure of the combined team of Russia for Everest, Northern Face took place.
The list of members of the expedition - 13 person, seven from them (Kuznetsov, Koshelenko, Vinogradsky, Zhilin, Ermachek, Volodin and Sokolov) took part in expedition of 2002 on Lhodse Middle.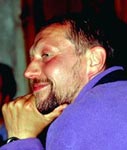 Viktor Kozlov
So,
The head of expedition - Victor Kozlov, Moscow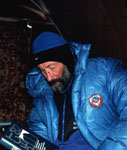 Nikolay Chyorniy
Senior trainer - Nikolay Chyorniy, Moscow
Coach - Alexander Pyatnitsyn, Rostov - na-Donu
Doctor - Sergey Bychkovsky, Ekaterinburg
Videooperators - (up to 6200m) Igor Borisenko, Sergey Shakunin
Photographer - Vladimir Kuptsov
Heads of sports groups:
Peter Kuznetsov, Krasnoyarsk (he was on Everest twice- the first time via the classical route, the second -North Face first ascent, Lhotse Middle, Khan Tengri, Pobeda peak)
Jury Koshelenko, Rostov-na-Donu (he was nominated on Piolet d'or four times, the winner of the Piolet d'or for the ascent on Nuptse East; first ascents on Shkhelda, Chatyn, Erydag, Ak-Su, Khan Tengri, the Troll Wall, Bhagirathi, Petit Dru, Trango Tower)
Pavel Shabalin, Kirov (Ak-Su - 10 climbs; first ascent Changabang, Northern face (Garhwal, the Indian Himalayas), Khan Tengri, Northern face; El-Captain, Asan, Slesova peak, peak 4810, peak Svobodnaya Korea, Dallar, Ushba, peak Korzhenevskoy, Lenin peak, Communism peak)
Participants:
Eugeny Vinogradsky, Ekaterinburg (Everest four climbs (all with oxygen), three climbs on Cho Oyu; Communism peak, Lenin peak, peak Korzhenevskoy, traverse of peak Kalinina - Communism peak, Engels Peak, Northern face, Block peak, Pobeda peak, peak Svobodnaya Korea, traverse Vazha Pshavel - Peak Pobeda - Military topographers, traverse of Kangchenjunga; in the autumn 1996 in a two-men team with Pershin - doublet of Shisha Pangma -Cho Oyu).
Jury Ermachek, Ekaterinburg (the winner of the Piolet d'or for the ascent on Makalu, Western Face, Everest, Lhotse Middle, Pobeda peak, Khan Tengri, Northern Face, Annapurna, Engels peak, peak 4810).
Nikolay Zhilin, Ekaterinburg (the winner of the Piolet d'or for the ascent on Makalu, Western Face, Khan Tengri)
Andrey Mariev, Tolyatti (Ê2, first ascent Changabang, Northern face, Nanga-Parbat)
Victor Volodin, Moscow (Everest, peak Urriellu, Marks peak, Engels peak, peak Korzhenevskoy, Communism peak, Lenin Peak)
Victor Bobok, Moscow (a high-speed ascent on peak Korzhenevskoy - 11 hours from base camp; Shkhelda in a two-men team with J.Koshelenko, Shisha Pangma)
Vladimir Arhipov, Krasnoyarsk (Pobeda Peak, Khan Tengri peak, peak Korzhenevskoy, Lenina peak)
Sokolov Gleb, Novosibirsk (Lenina peak, Communism peak, peak Korzhenevskoy, high-speed solo to Khan Tengri - 14 hours from the base camp and back, a high-speed ascent on Communism peak from Moskvin's glade and back - 19 hours of 40 minutes, a high-speed ascent to Lenina peak from the camp at 4,200 m through Razdelnaya and back for 12 hours, a high-speed ascent from Zvyozdochka (Asterisk) glacier to Pobeda peak through Vazha Pshavel peak and back to Zvyozdochka (Asterisk) glacier - 20 hours, Makalu, Lhotse, Lhodse Sphere, Lhodse Middle).
Ilyas Tukhvatullin, Podolsk - Tashkent (Everest, Ak-Su - 6 ascents, Khan Tengri, Northern face)
Alexey Bukinich, Sochi, 22 years - the youngest participant of the team, experience of ascents on "7-thousand" mountains, He has Jury Koshelenko's recommendation.
---
Everest. North Face.
Difference of the altitude 2,5 km
Extent of the route 4,5 km
Up to the altitude of 7200m - the rocky zone filled with ice, then there is a snow field.
Rocks - imbricate, very slippery.
The crux is at the altitude of 7900-8500 m
Prospective altitude of the summit push camp - 8200-8300 m
---
The main question: Tactics. Oxygen. Team. The basic difficulties.
Jury Ermachek:
In March we should accomplish an acclimatization ascent on Ama Dablam, descend to have a rest in Katmandu and at the end of March - the beginning of April are going to move under the Northern face of Everest. We are going to start fixing the route straight away because it is required to a lot of time. We will have to begin that as soon as possible, as in many respects everything will depend on the weather. Someone will get in the good weather, someone - in the bad weather, but it is necessary to start to work immediately right away.
The question about spending the night on the wall: most likely, we will adhere to the old tactics tested on Makalu - after climbing every 10 pitches on the wall we will have spending the night. Instead of Makalu, where there were places to set tents, we will use a portaledge on the wall.
Oxygen - upper than 8000 meters. Probably, some of climbers will use oxygen below. Everything will depend on the state of member's health and their working efficiency at such altitude. So we have understood by experience, that we can work at high altitude without oxygen, but some climbers have not climbed the "8-thousand" mountains. We will take oxygen on the summit push and time will show whether to use it or no.
The structure of the team has changed. I am familiar rather with a half of participants. Therefore it is difficult to tell, who and how will work. I know those guys who was with me on Lhodse Middle, but I do not know the others. …
Complexity - the high altitude, the very high altitude. Very strong cold at this time, in the spring, shortage of oxygen and storm winds. On Western face of Makalu there were no winds at all - a ridge protected, but here there are very strong winds. The constant wind exhausts both nerves, and health. You get tired from it.
Pavel Shabalin:
The basic complexities - the extent of the route and labour-consuming of the route, there are not easy sites, constantly steps, which it is necessary to climb, to go on foot; the plates are slippery and smooth. If there is not snow it will be unpleasant very much to climb constant rocks.
Oxygen? - I, probably, the unique man who was not on "8-thousand" mountains. We will see. I know that I am in a very strong company, Mariev and Ilyas are the people who I simply idolize. They are the super-climbers.
Ilyas was the last, who saw Franky (the American, Arsentyev's wife). They gave them everything that it was possible to give them, including oxygen. Ilyas went on the charge of half-litre in a minute, it is night norm. What, he speaks, did I climb with this oxygen for? Ilyas and I climbed Khan Tengri twice, and I remember Meriev as the unique climber when we climbed Changabang together.
Andrey Mariev:
I know only four climbers from the whole team. I have seen the others somewhere or have read about them. I think, that there will not be any complexities.
As it seems to me, the basic problem is a question of our survival, the survival in cold conditions, as it will be cold and constantly cold at the high altitude. Most likely, climbers will get some small exhaustion, and on this background they simply will get cold. It will be difficult for me, probably.
I never worked with oxygen, therefore, if the leader order, I will take it, but I will try to climb without oxygen.
Ilyas Tukhvatullin:
If I climbed via the northeast ridge, I would go without oxygen. I would like very much to try without using oxygen, but should I risk for the sake of my personal interests? - I am going decide that during our ascent whether I have the right to do that? In the case of using there is a probability to chill a throat and if I am disabled, it means, there will stay already not 13, but 12 climbers. The team will have to work more.
And here all of us have to weigh as far as personal ambitions, desire to breathe without oxygen above and necessity to work with full feedback on that site which will fall to your lot are proved. Everything needs to be balanced, and then everything will be good.
Psychologically, I do not think, that it will be hard. There is an opinion, that when the great climbers gather in a team - and here I can see the stars of the Russian mountaineering – it is very difficult to lead it. Everyone has own opinion, asserts it and so on … Probably, that the leaders will have problems with management of the team, it is possible, but the main task, the purpose, I hope, will correct ambitions some people separately as the persons, and will turn all of us to work in a command.
Already it is clear, that the probability of the majority of us will summit is minimal. Therefore we should realize, that it would be the team of two or the four, a maximum six climbers. All others will work for realization of this way, Russian way on the Northern Face. It is the psychological moment, which, probably, will render shadow influence on a course of events.
Technical? The route is very complex technically. It is complex so much, that I do not want to estimate it now on any parameters at all. The attitude should be very simple - we go there to live, to live for 100 days, in a good team, with good people, and to try to realize a good idea. That's all. The rest things will depend on many factors, including the weather. If the weather is good, we will do our best and do everything, that we can, and it can be even hardly more, as all the professionals are practically here, and they know their business. And let see, as it will turn out.
About tactics: The route is combined. There are also easy extended sites (high-altitude ascending). But there are enough abrupt sites for high-altitude mountaineering in the beginning and, the most important thing, above, right before the summit, where anybody from us has not "felt" the Wall, although below the guys made the route reconnaissance, and all of us can imagine, what we are going to run into. Here, there are two technical things.
Spending the night. We have thought up how to install the camps for spending the night. It is unreal to hang a portaledge, as it is too hard. We decided to use fishing nets, if we bolt them to the wall, caulk up this space with snow and freeze, we can set on this platform our tents.
The main thing, I am personally not so well familiar with avalanche situation on this part of the wall, how the wall, the base and next camps are protected from snowfalls. I want to find it out, to observe already on road the route. The average zone as you can see is white, with a lot of snow, with rather big accumulation of snow in places. And I do not like that. I am a rock-climber, a technical climber, and I have come here to work on rocky sites, where the only high-altitude climbers do not work. Therefore Pavel Shabalin and I take with us all necessary technical equipment. Jury Koshelenko and, basically, more than a half of the team members have a fine operational experience on abrupt sites. It allows hoping that under certain conditions, weathers and etc, we have a chance to successfully climb this route.
Victor Volodin:
The biggest problem? - My family
. The main thing is that the family will survive without me here
.
There are the heroes who should fix the rope, and there are the wise people who should climb on them - whenever it is possible
. We have got two jumars so with them we will be able to climb in any way
.
Oxygen? It seems the real Wall, it would be hard to climb without oxygen, I think. I would not take it if we were going to climb via classical route …
Ermachek-Volodin:
If you ask us about dopes - we as the Soviet people will reject any dope preparations. We will have necessary analysis. Instead of those football players and hockey players who eat tablets to support the health and to show result we will work supporting exclusively by a factory "Crystal"
(the famous liqueur-vodka factory in Russia).
By the way, do you take it a lot from the factory?
It is our military secret. Let other people be tormented how much the Russian can drink on the Northern Face of Everest
.