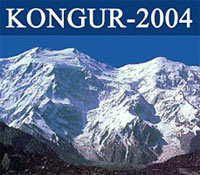 On July, 11 - September, 08, 2004 a complex expedition organized by Moscow Federation of Mountaineering and Rock-climbing (MFMRC) and Sports Club of Moscow Aviation Institute (МAI) aimed to summit the highest peak of China Pamir and Kun-Lun - Kongur, 7719m, North face, via a new route will take place.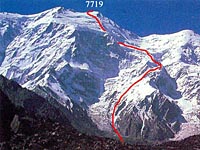 Kongur, a view from the north.
A general view of the route, altitude difference of 4000m.
Expedition team consists of 17 high-altitude climbers (MFMRC) and mountain tourists (MAI club).
The head of the complex expedition is Jury Hokhlov,
the head of MAI tourist command - Andrey Lebedev.
The expedition set to lead a new route to Kongur summit from the north. In addition the tourists plan to do that within the framework of a mountain campaign of the highest category of complexity.
The first Russian expedition on Kongur was organized by Moscow Federation of Mountaineering and Rock-climbing in 1998. Since then the team have repeatedly visited Kashgarskie mountains. Almost all its members summited the third highest top of the area - Muztagh-Ata (7546m). In 2002 and 2003 the team tried to summit Kongur, first via the north face, then from the southwest, however the mountain did not want to surrender. The team has perfect conception about the area, weather character and conditions of ice-snow top cover.
MAI Tourist Command has repeatedly won National championship on extreme mountain trekking of the highest category of complexity (1990, 1999, 2001, 2003). In 2000 it carried out the independent mountain campaign in mountains of China for the first from Przhevalsky time. The team has in its active unique 470-kilometer trekking "Pamir marathon" (1999) with ascents on peaks of Revolution (6974) and Lenina (7134) and 370-kilometer "Zaaliysky marathon" (2001) with first ascent on Beleuli peak (6065) and traverse of Lenina peak.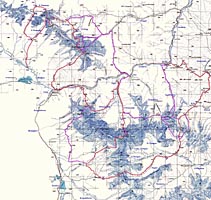 The detailed map with marked route
---
Check out the previous story on the Mountain.RU:

Kongur-2003

Kongur-2003.The Ascent Datas