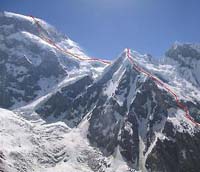 Batura II, 7762 meters, represents the highest un-climbed mountain on this earth The southern face of Batura II, the side which will be the object of our attempt, is definitely more difficult but less dangerous compared to the western face. It is the same face on which previous attempts were made, but which we will attempt by following a new and different line from what has been followed up until now.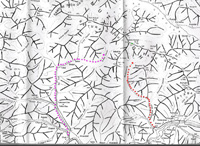 Expedition terms: June-July 005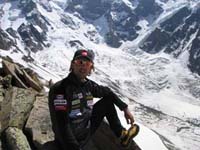 Team's members:
Simone Moro

Joby Ogwyn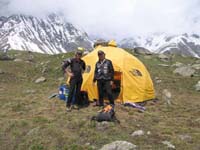 Check out the previous story on the Mountain.RU:

First Shisha Pangma Winter Ascent

Simone Moro, Denis Urubko. Doublet: Baruntse North Face&Annapurna
Simone Moro. Batura II, 7762 m
News:

Simone Moro. Batura II
10.07
Expedition Finished.....!!!
In the day we summited Batokschi Peak 6050 after 3 days of Alpine style climb without any rope during all difficult and dangerous climb.... we began the long descent along a different and unknown route ... We climbed down for long time in Piolet Traction on a delicate and dangerous ice and snow. Some vertical sections requested us the maximum concentration. The high danger of avalanche obliged us to be fast, extremely fast, but the difficulties were always high...
Unfortunately Joby was behind me and he did his best to be efficient and concentrate as he climbed down well but taking his time. Waiting for him under seracs and cornice would have been suicide...
I was in base camp drinking cold juice and doing a sat phone call when Joby called me on the radio.
" Simone... I've been hit by an avalanche...I survived as a miracle but... I think I broke my ankle and hip and am seriously injured.... "
It took me some seconds to realize the meaning of those words...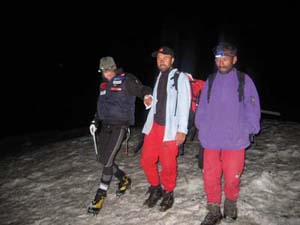 I immediately started the rescue effort, mostly realized from Didar (the cook) and with help from Karim (cook assistant) and me. During the long and painful (for Joby) walk down on the moraine till base camp, I did some sat phone calls to our agency, Adventure Tour Pakistan, to request a helicopter evacuation the day after. Today at 12:20 an army helicopter arrived at base camp and took Joby and me to Gilgit... Joby has some difficulties and pain to move the leg and walk but the first medical control said that probably nothing is broken but he has to rest and recover some weeks as a ankle and hip traumas.
The expedition is finished in advance, with 2 summit reached and one new route, but our principal aim is failed due the bad luck. We are happy because all that is missing is the sport result, Batura 2, but not the life of someone...
I would like to thank Ashraf Aman and his staff Essar and Neiknam for the strong and fast "diplomatic" effort to obtain the military helicopter for us. Unique and great job!!!!
Thanks to God for the epilogue of the accident and the facts.....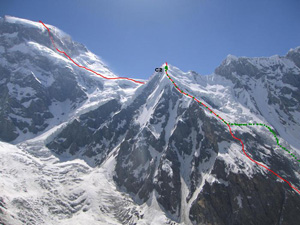 8.07
Today we get up at 4 o'clock. So we found cold temperatures and avoid to break in the deep snow till our waist, like yesterday. The snow conditions we found was good, but we also found high climbing difficulties, this was a surprise for us. The ridge was steep and airy and we had to climb without ropes, because it was not possible to make an acceptable security. Joby and I were still in contact with our radios and continue to remember each other to be concentrated, because it was not aloud to make errors…. To go back was impossible, because of the high the difficulties, so the only possible way was to go up.
Finally at 1 p.m. we found a place for our camp 2. In 40 minutes we set the camp at 5900 meters protected by one big serac. We are now close to the Batokschi Peak. Near the ridge we found also some very old fixropes, hold by some iron carabiners, but obviously it was not advisable to use them.
Result after 2 days: near then 2000 meters climbed in alpinstile without ropes.
Ciao till tomorrow
Simone and Joby

(6.07.2005)

Simone Moro. Batura II
Joby and Simone on summit of Ya Chhish (climbed the 2nd time!)
5.07
Today again bad weather but I and Joby didn't want to take another rest day at Base camp. So we got up at 7:00 a.m. and at 8:05 a.m. we started to attempt the summit of Ya Chhish 5130 meter.
It is not an easy mountain and it's better to take care especially on the final ridge. It had been climbed only one time on the 23rd May 1976 from 2 east Germany climbers. They climbed Ya Chhish to make acclimatisation before attempting and reaching Batura I (at that time the highest unclimbed peak of the world). After 29 years at 11:30 Joby and I climbed the mountain again via the east face and the delicate final ridge. We also climbed that summit to get acclimatisation before attempting the highest unclimbed mountain of the world in 2005....
We remained 30 minutes up there with light clothes even the weather was bad, but no wind and no cold. At 2:30 p.m. we were in base camp eating tortellini, salame, french frites, spaghetti alla bolognese and at the end a good Italian coffee.
Tomorrow the weather should be again bad and we want to stay here to take rest and the day after we will start for our climb to Batura II throw Batokshi Peak.
Ciao
Simone and Joby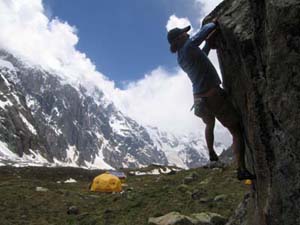 (5.07.2005)
Simone Moro. Batura II
4.07
Again bad weather.... Also last night was snowing but thanks to the good temperature it melted everything here in base camp. In this moment that I'm writing the weather is again bad but today we get some hours of good conditions and I had fun, doing some bouldering and Joby took footage and photos .
This is one of the systems to avoid to be boring and get training...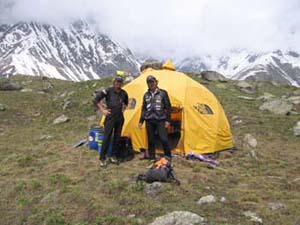 (4.07.2005)
Simone Moro. Batura II
1.07
First day for Joby here in base camp. He arrange all his equipment in his tend and take confidence with the place and the wonderful view of so many unclimbed mountains around. He get also rest after the fast trekking and some stomach problem he get during the approach. Tomorrow we will do our first excursion together and we will try to reach the summit of Ya Chhis over 5100 meters. It had been climb only one time around 30 years ago. It will be the occasion to show to Joby our route on Batura II and watch all particulars of the mountain.

Till tomorrow
2.07
Today first excursion together with Joby but due the bad weather we walk only 2 hours. All the night was raining and also this morning rain for some couple of minutes. Rain at 4100 meters....
For that reason the climb of Ya Chhish had been postponned. Also at the others base camps the situation is the same. We are in touch by sat phone with some friends at G2, Broad Peak, Nanga Parbat and Latok. Today we will read our books and get relax.
3.07
After many days of good weather now we have to accept some days of bad and raining/snowing weather. Also today, in fact, we didn't move from B.C. due a rain fall and low clouds. So we spend time in our big and comfortable The North Face mess tend, riding and writing at computer. I decide to start to write my second book some month ago and now I have the time to try to do it. I would like to see published my first book also in other language and not only in Italian. The story of the friendship with Anatoli Boukreev and our tragedy on Annapurna in winter 1997 is always one of the question that foreign climber make to me always. Maybe is not so bad idea to give them the possibility to read what really happened....
We are always in touch by SMS with Gerlinde Kaltenbrunner at G2 and Silvio Mondinelli at Nanga Parbat. They also have bad weather and Silvio told me that it will be the same till next Tuesday....
Ciao
Simone
(1.07.2005)
Simone Moro. Batura II
30.06
Joby Ogwyn arrived at base camp!!! He resolved all the bureaucratic problems and finally he get here at 3:30 p.m. today. The team now is complete and the climb can start. Probably after tomorrow.
He obviously need one day rest.
Follow us
Simone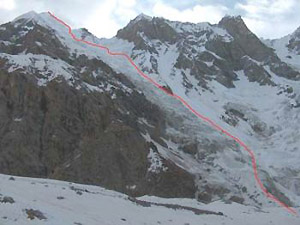 (30.06.2005)
Simone Moro. Batura II
29.06
First cloudy day after one week of blue sky. Probably it is the best weather condition for Joby, who is walking up to "Sheep House" and tomorrow will arrive here in base camp. Today I went again at the base of the face to watch the route I choose but a stone falling push me to change idea and route.... all the snow is melted and now in the coloir remained only stones...
I will follow the same route of the German of 2002 on the right side of the glacier descending from Batokshi. Also today I'm fighting with my sat modem because the mountain that I have in front of base camp cover partially the satellite and I have only 50% of signal that is the minimum to transmit files and data. So many times I have no line or it cut after few seconds. So try o send many times each message before it is able to leave the base camp and arrive to you...
Ciao
Simone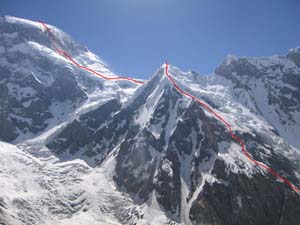 (29.06.2005)
Simone Moro. Batura II
28.06
I can't wait anymore..! The weather continue to be wonderful and the conditions of the mountain now looks good and safe. Joby Ogywn is NOT yet arrived by Jeep in the village of Bar where my cook Didar is waiting for him since yesterday. For that reason tomorrow I will start the climb alone trying to set camp 1 on Batokshi peak along the route to Batura II. The good weather will not remain so good forever.... better to do something
Ciao
Simone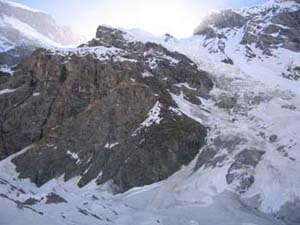 (28.06.2005)
Simone Moro. Batura II
27.06.2005
Another sunny day with blue sky. It is already one week that I get this weather conditions and the snow is melting fast. The avalanches continue to come down along the icy walls and they clean the deep snow from the mountains. Today I spoke with some friends that are in Pakistan in different expeditions and they also told me to have the same weather conditions. We agreed that the season 2005 is 20/25 days late and that is not a problem to be at base camp late June and beginning of July.
Today I did another excursion at the base of the face to observe the last details of the route...
Ciao
Simone
26.06.2005
Second excursion around the base camp. Today in fact I climbed a fore summit of Ya Chhish, who is located exactly in front of Batura II and Batokshi peak. From that point I get the possibility to see our route and take nice pictures. It had been also the occasion to do a 5 ours "trekking" and climb till 4° grade UIAA in a nice ambient and rock. Today Joby Ogwyn landed in Islamabad and immediately he took another flight to Gilgit. Tomorrow he will start his trekking and in 3 days will be here at base camp. Also today I send you some photos I took today
Ciao
Simone
25.06.2005
Joby Ogwyn, my climbing partner, is flying now from Milano to Islamabad. Finally he get the visa and he can start the expedition and his fast approach to the base camp. He should arrive here one 29th of June. Today I went to the base of the face to observe the starting point of our route. I took some photos and transport some equipment there. The altitude of the starting point of the route should be 4250 m. Tomorrow I will go to the summit of Ya Chhish 5130 m that is located exactly in front of the face and from where I should see most part of our climbing line from to base to the summit. Ya Chhish had been already climbed the 23rd may 1976 from two east-german climbers.
Till tomorrow
24.06.2005
First day at base camp. Also today nice weather and many work to do. Fix definitively the tends, shavelling the snow, set the solar panel together the electronic instruments, test the emergency generator, control all the climbing equipment. Also today I did tons of photos to the mountains around us. There are so many unclimbed and beautiful peaks. Since tomorrow I will show to you some of them with name and altitude. I hope that somebody will find one to attempt in the next expedition....
Ciao
Simone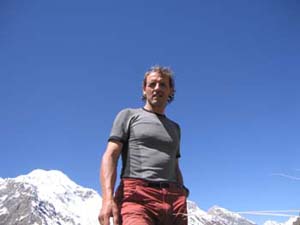 (24.06.2005)
Simone Moro. Batura II
23.06
Finally we arrived at base camp! The GPS of my sat phone Thuraya indicated 4103 meters the altitude of this place. From here to the summit should be 3659 m of difference... The place is really nice and thanks to the porters we arrived here with all the equipment to stay till august and made all the attempt we need. Here there is water, we are near the wall of Batura, there is grass even still covered from snow now. We have sun from 7 a.m to 6 p.m.. Now we remained in 3 persons. Me and the Pakistan cooks Didar and the kitchenboy Karim. My climbing partner Joby Ogwyn is still in Italy but should fly to Islamabad between 3 days. His passport with Pakistan visa is coming from USA to Italy (where he lives now). Other thing I will write you tomorrow as I have a lot of free time.....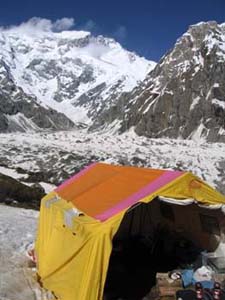 (23.06.2005)
Simone Moro. Batura II
22.06
How big is it!!!! This is the first sentences I said when I saw Batura II and the Batura group!! As supposed the flat green place of the base camp of the German expedition of 2002 is completely covered by 50/100 cm snow.
Only near the morean we found a small green place, NOT FLAT where we set the provisory camp for today. The porters worked hard to find the place to organize their camp and place for all of them below stones or protected from stone walls.
Tomorrow we will cross the glacier and set the base camp where I requested, near the face. It will be the "Italian base camp".....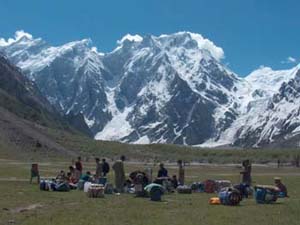 (22.06.2005)
Simone Moro. Batura II
21.06
What a nice place here!!! I never imagined that I could find a better place around high mountain. The photo I send you, will not probably give you the real idea of the beauty but believe me.... is incredible.
Around the mountains we saw today and also yesterday, there are a lot of snow leopards and all my porters told me stories about their meeting with the animal and that in this area there are a lot. I can believe it, because here there is no tourism and also very few expeditions came here in the past.
Today we stopped here at 3332 meters and not higher as scheduled, because the porters decided to walk 2 days more (tomorrow and after tomorrow) to help me as muchas they can to arrive closer to the mountain and not at the normal base camp that is 5/6 hours distance from the wall. For me it should be a great help!
Today afternoon the porters played polo...here at 3332 meters highness. They prepared the "game tools" with some wood, they provided in the forest and the game started....
They are fantastic as the mountain here around.....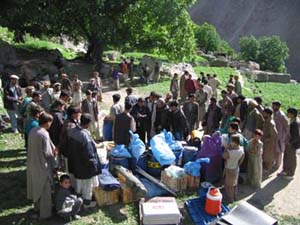 (21.06.2005)
Simone Moro. Batura II
20.06
After discussing and managing the loads for the porters, finally we did start for the trekking.
We have 42 porters and some of them are the same of the German expedition of 2002.
They are very nice, friendly and strong. The valley, in which we are trekking is really wild and beautiful.
Green and brown are the 2 colours that had been around us during all the day. Now we are a 2782 meter of altitude and we can see at 1 hour distance, the Baltar glacier. Tomorrow evening we will see Batura IV and III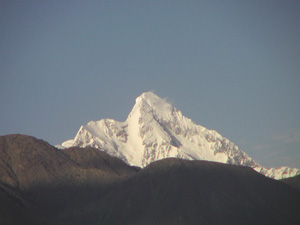 (20.06.2005)
Simone Moro. Batura II
19.06
Today we start. From Gilgit we will go by Jeep for 4/5 hours till the village of Bar where we will spend the night and organize the porters. Tomorrow we will start the trekking to approach Batura II throw Baltar Glacier. There is a lot of snow and this is the reason why I choose this approach and not the Muchuchil glacier valley. We in fact received advise from our staff, that porters wouldn't go there because it is longer and more difficult with deep snow. The risk is they left our equipment too far from the mountain. On the map you can see the purple points that indicate our trekking way. I hope to get the possibility to update the web site and give you information and photos also along the trekking (if batteries will work without to be charged anymore till base camp).
So everybody on board that the games are starting...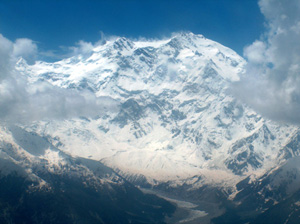 (20.06.2005)
Simone Moro. Batura II
17.06
Today I saw white mountains. Even with one hour delay, I flew to Gilgit today and in the clouds I saw mountains of this area, mostly Nanga Parbat. The snow it look really deep and more than usual for this season and in the few minutes of the clear sky I took some pictures to Nanga to show you. I also tried to watch in the direction of Rakaposhi and Batura but it was impossible to see because there was to cloudy sky and flew to low.
The sun in any case continue to be the principal actor of the day and it should be good to melt the heavy snow on Karakorum mountains… The news I get from here about Baltoro area is that from Urdukas to the base camp of K2, Broad Peak, Gasherbrum I and II, the porters have to walk in the snow with the obvious difficulties.
Tomorrow should arrive in Gilgit by truck and bus all the expedition's equipment and my cook Didar and the kitchenboy. After tomorrow we should start to trek to base camp. Today I also spoke with Joby in Italy (his new home) and he confirmed me that his passport arrived in USA and in Pakistan embassy there. I hope and wish that the visa will be organized fast and Joby will come here to begin the adventure soon...
Ciao
Batura II. Simone Moro's New Project.
Ciao to everybody. I'm here again after some month silence after the first winter climb I realized with Piotr on Shisha Pangma 8027 m (officially registred) My new project you should know and you can read on my web site and the most important international web sites. The expedition started with some problems because we have to fight to obtain the pakistan visa from the embassy in Italy and finally only I get it... Joby Ogwyn had to send his passport to Usa and is waiting to get it back with the visa. For that reason I'm in Islamabad alone and I already made the briefing at the minister of Tourism, collected the equipment sent by cargo 2 weeks ago and tomorrow I will fly to Gilgit and than start with the trekking. Now I have another big problem, because I get 2 different advices from 2 friends who knows Batura very well. Wolfgang Heichel (the most informed man about this mountain area) told me to go to Batura II along the Muchuchil Glacier. Markus Walter the last climber who attempted Batura II in 2002 suggest me to go along the Baltar Glacier. There are 2 different valleys and approach. Which I have to follow??!! Also in ATP agency of Ashraf Aman I get 2 advices from 2 different cooks who was in the 2 different glaciers in different expeditions. The advices are different also.... The only thing it looks agreed that from Baltar Glacier should and could be less dangerous..... maybe. Soon you will have the result of my decision ( I have a coin to play the choice........:-)
Ciao
Simone