11 June - 11 August
Masherbrum Northeast Face
They are going to the mountains again. And again to Pakistan in spite of they failed twice there and lost their friend. Masherbrum Northeast Face, remaining still unclimbed is their ambition...
Odintsov's team, the fans of virgin northern walls.
July 1 - 23 2006
Grand Jorasses North Face Expedition
Russian Extreme Project and Red Bull present new B.A.S.E. climbing project.

This Project is a continuation of new adventure - a kind of extreme sport that we opened in 2002 and named "B.A.S.E. climbing". The goal is not just to get to the top (not around but via the line of the future falling), but to do a B.A.S.E. jump from the summit.
TrollWall 2006 expedition
There are peaks which attract people and make some of them to overcome daring climbing, the other - make jumping with paraglide, the third - ski and snowboard descent. The Trollrigen Wall is not exception.
Because of steepness it became the Mecca for climbers and BASE jumpers alike for a long time.

Expedition Aims

The main mission - the second ascent of one of the "Russian" routes of the hardest grade (6B) Trollrigen Wall (Troll Wall) North Face.

Participation in Russian mountaineering championship 2006 in a high-altitude -technical class.

Shooting of a plot for the program "220 Volt" (7 TV).

Shooting of materials for educational film

Creation of a film for participation in Moscow International Festival of Mountaineering and Adventure Films "Vertical"
Shkhelda-2007 (Caucasus, Russia) Expedition
At the start of January a combined team of Moscow Demchenko Club aims to summit Shkhelda 3-rd Western, 4280m, via V. Balyberdin's route (5B-winter-Russian grade). It is going to be the second ascent of one of the most logical routes for the summit of Shkhelda 3-rd Western. Since 1984 this route has not been repeated.

The expedition forms a constituent part of a great project with the aim: climbing on for a long time footless routes or opening new logical lines.
Russian National Alpinist Team New Expedition: K2 (8611m) West Face first climb.
Main characteristics:
Western Face Ê2 (8611 m),
Base camp: 5000 m,
Advanced camp: 5500 m,
Rocky bastion: the crux from 6500 - 6600 m up to 8150-8200 ended with gendarmes.
Further a sharp ridge according the photos sent by Japanese climbers.
Average steepness of the bastion 63 degrees with vertical sites. Technical rock climbing.
Six high-altitude. Spending the night: in tents.
Expedition start: End of May 2007.
Aims:
* not using supplementary oxygen
* not help of high-altitude porters
* improve the credibility of Russian sport and gain prestige of Russia
Russia 's strongest climbers, most awarded for great achievements in mountaineering have been ed to take part in this challenge event.
Haina Brakk Direct 2007
Moscow Karakoram Expedition Haina Brakk Direct 2007 starts on June, 24 from Moscow.

Object of ascent: Haina Brakk (Shipton Spire) - 5852m.
Top Íaina Brakk* is located in the Northern provinces of Pakistan, in Karakoram range. From apart the wall seems ideally smooth. Due to what the mountain also received its name.
The main aim is to place the Russian trace on the wall and open a beautiful and logical line.
Today on June, 24 the Moscow Karakoram Expedition Haina Brakk Direct 2007 starts from Moscow for the capital of Pakistan Islamabad at 15.00.
Team's members:
Denis Savel'ev - the head of the expedition.
In his bag: climbs Bashkara, Ushba, Erydag, Zamin-Karor, Troll Wall.
the 17th of November - the 10th of December 2007
Venezuela , Amazonian region, Tepui, Autana
Tepui - mountain massive, that rise in the South - South-East of Venezuela , is the unique object of nature. It is built of buttes of solid rock of ancient mountains that disappeared long ago. All the sides of the mountains breaks down with vertical walls (up to 1000 meters high) and like giant monuments they tower above the jungles. These were the mountains that Conan Doyle described in his novel "Lost World". The only ascent to this top was made by Americans four years ago.

Certainly, we are going to make an ascent along the new route. Russian step should be left in this mountain region which is difficult of access but very interesting!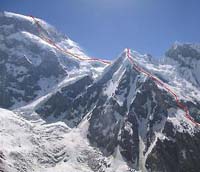 Simone Moro. Batura II, 7762 m
Batura II, 7762 meters, represents the highest un-climbed mountain on this earth The southern face of Batura II, the side which will be the object of our attempt, is definitely more difficult but less dangerous compared to the western face. It is the same face on which previous attempts were made, but which we will attempt by following a new and different line from what has been followed up until now.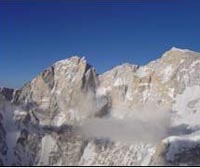 Chomo Lonzo FFME Expedition
The aim - Ascent Mt. Chomo Lonzo, 7560 m, Tibet, by three independent teams in Alpine style via the new route.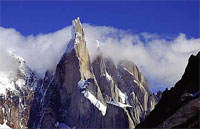 Expedition of Russian Adventure Team Alpindustria - Cerro Torre (Patagonia)-2005
Route: Buenos Aires - El Calafate - Chalten (Patagonia) - Cerro Torre via Compressor route.
Terms: on January, 28 - on February, 20.
Main Aims:
1. Cerro Torre's ascent via Compressor route.
2. Discover of the area to open it for Russian climbers and tourists. Only three Russian expeditions have been there before and only one of them was successful. Alexander Lastochkin was in the Russian team summited Cerro Torre.
3. Participation in Russian Mountaineering Championship.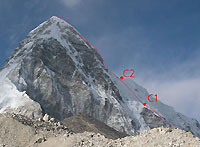 "Russian Pumori Team" Expedition
There is a set of routes lead to Pumori summit, two of which are considered as the classical ones. The route via Southeast ridge is the most simple. Nevertheless, it is the most dangerous in a post - monsoonal period and ice collapses from a shoulder of the southeast ridge overhangs climbers. Taking into account winter time of our coming ascent, we choose this route considering that the risk of ice collapses would be minimal in winter because of low temperatures and a long absence of snowfalls during this period.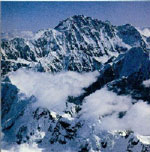 First Shisha Pangma Winter Ascent
"Winter is back and I am off once again to face the ascent this season of an 8000 metre peak. Last January, at the beginning of 2004, only 300 vertical metres stopped us from achieving the first historical winter ascent of Shisha Pangma's 8027 metres in the Himalayas..."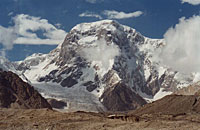 EXPEDITION to "the wild world"
In the summer, 2004 a team led by Anatoliy Juliy plans the second expedition to Central Tien Shan mountains (the area of peak Tomur - peak Pobeda) from the China part. The purpose of the second expedition is passage several new still unclimbed passes, first ascents on one or two "6-thousand" mountains and an ascent via a new route from the south on one of known summits of Kokshaaltau ridge - peak of Voennykh (Army) Topographers(6873 m, 22,550 ft)."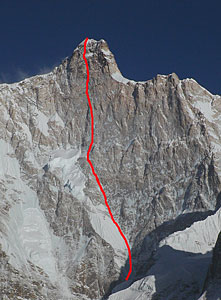 Jannu, 7710ì North Face"
The "Big Wall - Russian Way" project consists in climbing new routes on the most famous walls in the world. A mountain wall is a natural phenomenal occurrence represented as a precipice more than 1000m long and with a steepness more than 70°.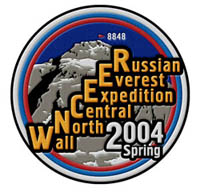 Mt. Everest, 8848ì The North Face"
Russian Mt. Everest Expedition via the center of North Face
A combined team of Russian climbers supported by Russian Mountaineering Federation is going to make the first ascent of Mt. Everest's North Face via the center.
The Expedition takes off from Moscow on February, 25. Twenty climbers are going to the Himalayas, many of them were the members of the team successfully summited the last world inclimbed "8-thousand" - Lhotse Middle in the spring of 2001.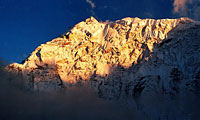 Simone Moro, Denis Urubko. Doublet: Baruntse North Face&Annapurna
Simone Moro reports:
I'll be returning to Nepal on the 28th of March. I'm going there in order to attempt two prestigious climbing objectives. The first will be the north wall of Baruntse (7129m). This is a "virgin" wall, untouched except by the gaze of thousands of "eye climbers!" This wall is located in front of the south wall of Lhotse (8561m), part of the mountain group between Everest and Makalu which has battled hundreds of trekkers and alpine specialists over the past 30 years...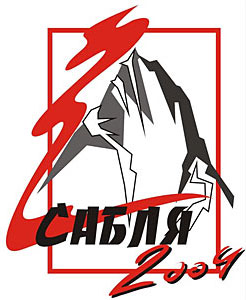 Peak Sablya
From April, 25 till May, 10 a team of young Ekaterinburg climbers is going to summit Peak Sablya (Sabre), 1497 meters, via a new route on center of the 600-meter and 70 degrees wall.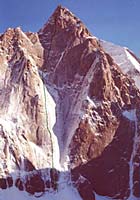 Ak Su, 5350ì. Winter attempt
Ak Su winter attempt. Chaplinsky route
On January, 14, Russian-Kyrgystan team from Ekaterinburg-Bishkek: Eugeny Novoseltsev, Sergey Kofanov, Nikolay Gutnik and Vitaly Akimov will leave Bishek for Ak Su winter attempt via Chaplinsky route and maybe in the upper part via Chabaline-route.

Peak Lenin 2004
The planned route of the ascent
via Arkin's route or via Razdelnaya top depends on a condition of a snow cover..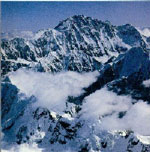 Shisha Pangma Winter Expedition
Simone More:
"After few hours I will fly to Kathmandu. After 3 day they will also arrive in Nepal 4 climbers from Poland. Our aim is to realize the first winter ascent of Shisha Pangma 8027 mt. As you see in the list I will attach in this e-mail there are still 7 peaks over 8000 meter that are unclimbed in winter..
The team will be of 3 climbers + one other base camp manager. We will attempt the Krzystzof Wielicki route. He had to come with us but at the last time he get a family problem..".

Nuptse East, 7804
There is another exciting project this fall - the third attempt of Valery Babanov teamed with Yury Koshelenko this time for Nuptse East.

Jannu, 7710ì North Face,2003
The "Big Wall - Russian Way" project consists in climbing new routes on the most famous walls in the world. A mountain wall is a natural phenomenal occurrence represented as a precipice more than 1000m long and with a steepness more than 70°.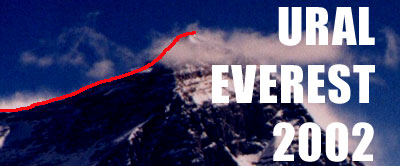 Ural-Everest 2002
Ural-Everest 2002 expedition team left for Tibet
April, 6 Ural-Everest 2002 team left Katmandu for Tibet. Alexey Bolotov reports: "We are taking the only road via Zangma (it is on the Nepal/Tibet border). Usually it takes 5 days to get to BC - it is done for acclimatization - but if everyone from our team will be OK, we'll try to get there quicker. We've bought all foodstuffs and necessary equipment. We failed to get our oxygen bottles, it is in Katmandu already, but they won't give it to us. It is because of martial law. They promised to send it later with Slava Skripko's team - it will be 5 more days..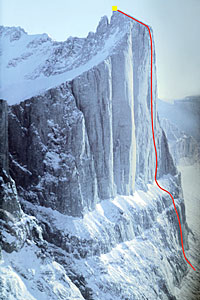 "Bask - Great Sail Peak". Expedition
"Russian Way - The Walls of the World". The next stage of the project.
The team of the climbers under the leadership of Alexander Odintsov, master of sports of the international class, starts the next stage of the project "Russian Way - The Walls of the World".

Latok III (Karakoram) again (2001)
In spite of failure in 2000, the team decided to try the West Face of Latok III (Karakoram) again (2001). None has succeeded to climb that wall before.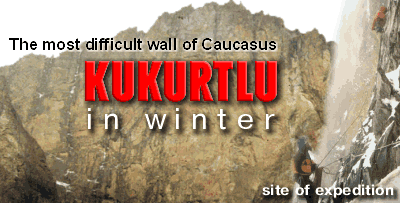 Kukurtlu in winter, 1999-2000
September 1999. It took 6 days for the team headed by A.Abramov to climb 20 pitches of one of the most difficult walls in Kavkaz via Lukashvili route - the left part of the wall.